Advertising in Journal of College Science Teaching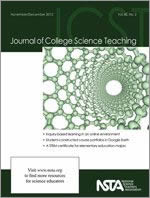 The Journal of College Science Teaching (JCST) is a highly readable, scholarly publication that reaches college professionals who are educating the next generation of elementary, middle school, and high school science teachers. Advertising in JCST is an excellent way to reach both the college teachers and the preservice science teachers they work with.
Audience: College and university science education personnel across the United States and Canada and other international markets.
Circulation: 3,500
Frequency: Bimonthly: January/February, March/April, May/June, July/August, September/October, and November/December.
Rate card: 2020 • 2020 writable
Content:
Articles that emphasize innovations in teaching and learning in the natural sciences at the college and university level, with special emphasis on interdisciplinary science teaching practices
Columns that focus on case studies, the two-year community college, and research-based teaching practices
Did you know?
All NSTA Journals now have a digital version that includes your advertisement with active hyperlinks providing more engagement for readers.
Sales
Jason Sheldrake: 703-312-9273
Jeffrey LeGrand-Douglass: 703-312-9240
Advertising Coordinator
Becky Shoemaker: 703-312-9228