Body
Why advertise?
Target Market—NSTA is the largest association for science teaching.  We can help you reach science educators across the country at all grade levels, position types, and science disciplines.  NSTA members, our large audience of e-newsletter subscribers, website visitors, and Social Media audience are a prime market for products, services, and books related to science education.
Grade-Specific Journals—NSTA publishes three journals dedicated to elementary (Science and Children), middle (Science Scope), and high school (The Science Teacher).
E-Newsletters and Online Banner Advertising—Complement your print advertising with an ad in NSTA's award-winning e-newsletters and banner ads on the NSTA website.
Sales
Bob Jonas
rjonas@nstaalliances.org
703-609-3974
Advertising Coordinator
Marcelo Nunez
mnunez@nstaalliances.org
703-220-3194
Authorized Partner
Sponsored Content Marketing Partnerships
Lisa Hershey, Business Development
Livingston Marketing
(607) 264-5018
https://livingstonmarketing.com/
Media Kit
Body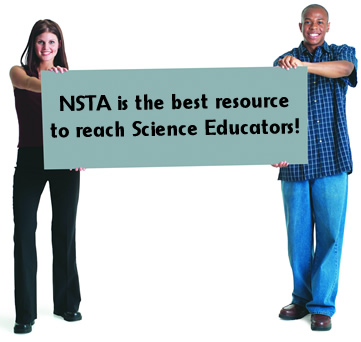 NSTA Journals are ranked as the #1 benefit of membership!
Choose Your Target Market of Science Educators Below for a Customized Marketing Solution