Retiring President
2022-2023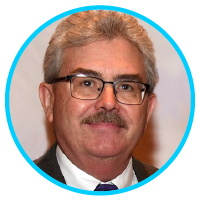 Dr. Eric J. Pyle
Professor
Department of Geology and Environmental Science 
James Madison University
Dr. Eric J. Pyle is the retiring president of the National Science Teaching Association (NSTA). He began serving his one-year term on June 1, 2022. He is currently a Professor of Geoscience Education at James Madison University (JMU) in Harrisonburg, Virginia.
Pyle has been a committed teacher, educator, and member of the science education community for more than 30 years. He began his professional career as a science teacher at Monroe High School in Monroe, North Carolina. During that time, Pyle also worked as an instructor of physical geology and led summer enrichment programs for high school students and teacher professional development at the University of North Carolina at Charlotte. After six years of classroom teaching, Pyle returned to school to pursue a doctoral degree in science education. While studying at the University of Georgia, Pyle worked as a graduate research assistant in the Department of Science Education.
In 1995, Pyle accepted a position as assistant professor of science education at West Virginia University (WVU) and was promoted to associate professor in 2001. At WVU, Pyle served on the board of directors (1996–2004) and as president (2003–2004) of the West Virginia Science Teachers Association (WVSTA). In 2005, Pyle relocated to the College of Science and Mathematics at James Madison University (JMU) in Harrisonburg, Virginia.
While at JMU, Pyle has served as a board member (2006–2018) and president (2009–2010) of the Virginia Association of Science Teachers (VAST), and as teacher education division president (2019–2020) of the National Association of Geoscience Teachers. Pyle has also held various other leadership positions for the Association for Science Teacher Education (ASTE), the National Earth Science Teachers Association (NESTA), and the Geological Society of America (GSA). Pyle served as co-director of the JMU Center for STEM Education and Outreach during 2008–2016, and was promoted to full professor in 2011. He has received funding from the National Science Foundation and the U.S. Department of Education in support of his work. Pyle contributed directly to A Framework for K–12 Science Education as a member of the Earth and Space Science design team and was a primary reviewer for the Next Generation Science Standards. He was recently named Curator for Education and Outreach for the JMU Mineral Museum.
An NSTA member since 1991, Pyle has contributed extensively to the association. He has served as a division director (of preservice teacher preparation) on NSTA's Board of Directors and as an NSTA Council member (director of District VIII). Pyle also chaired the NSTA committee that drafted the association's position statement on teaching climate science and co-chaired the joint NSTA-ASTE committee that revised the standards for science teacher preparation. He has served on several other committees and advisory boards; was a program committee strand coordinator for NSTA's 2018 Charlotte Area Conference; has authored articles in Science & Children and Science Scope; and has presented numerous sessions at NSTA national and area conferences. As 2021–2022 NSTA President, he represented NSTA to the National Assessment Governing Board (NAGB) and to multiple state chapters and affiliates.
Throughout his career, Pyle has been honored for his contributions to science education. He received the Gustav Ohaus Award in 1999, the WVU Outstanding Teaching Award in 2001, the JMU College of Science and Mathematics Outstanding Service Award in 2015, the JMU Provost's Award-Assessment in 2016, and VAST Recognition in Science Education in 2016. Pyle was also named a Fellow by the Geological Society of London in 2016 and by the GSA in 2019. His field-teaching team was honored with the GSA/ExxonMobil Field Camp Excellence Award in 2021. And most recently, he received the JMU Provost's award for excellence in Global Education and was named a Fellow of the NESTA.
Pyle earned a bachelor's degree cum laude in Earth science from the University of North Carolina, Charlotte, in 1983; a master's degree in geology from Emory University in 1986; and a PhD in science education from University of Georgia in 1995.