Job Fair
National Conference in Kansas City • Oct. 25-28, 2023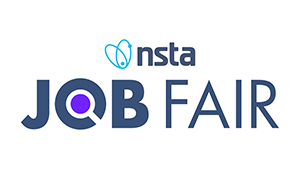 Connect with hiring managers from 30+ school districts, universities & colleges, and other teaching services recruiting top educational talent from the U.S. and internationally.
Jumpstart your career search at the NSTA Job Fair! NSTA is excited to host this event, featuring school districts, private academies, universities, and informal science institutions looking for qualified, dedicated educators to join their teams. Explore options, gather information, and interact with representatives about current and future employment opportunities.
Friday, October 27 • 9:00 AM-5:00 PM
Location:
NSTA Expo Hall at the Kansas City Convention Center
Do you have current vacancies to fill, anticipating future needs, or want to improve your pipeline? Reserve your space at the NSTA Job Fair to connect with qualified teachers, preservice teachers, informal educators, and higher education talent looking to advance their careers.
You will:
Make meaningful connections with educator candidates and establish relationships
Collect resumes from candidates interested in specific positions
Educate candidates about what makes you an employer worth considering
Inform candidates about next steps in the hiring process
Cost: $980, each reserved space includes:
Two complimentary conference registrations
One basic 30-day listing on NSTA's Career Board
6' draped table and two chairs
Identification sign