Online Extras: Next Time You See a Seashell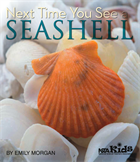 Dear Educator,
Here are some activities to do before and after reading Next Time You See a Seashell. Feel free to pick and choose from the list based on the age of your students and your purpose for reading.
Reading more nonfiction texts is a key shift in the Common Core ELA standards, so I have included some ELA Common Core Connections for each activity as well as connections with the Framework for K–12 Science Education.
I hope you and your students enjoy the book and experience a sense of wonder next time you see a seashell.
—Emily Morgan
---
If you have purchased Next Time You See a Seashell, you can view the accompanying activities and references online. These resources are for your personal use only and are not to be redistributed.
To view the online extras, please type in the third word on the very last page of Next Time You See a Seashell: