Call for Papers: Science and Children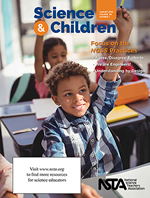 Your 2000-word manuscript should describe a set of connected lessons or investigations that build an idea or content area. They should include assessments (pre-, post- and formative) as well as enough detail that another teacher could replicate the lessons in the classroom. Examples of student work are encouraged.
Please read our manuscript guidelines before submitting your manuscript. Manuscripts should be submitted electronically; once online, follow the steps for New Author Registration. For more information, contact managing editor Valynda Mayes at vmayes@nsta.org.
Don't see a theme that fits your idea? Don't let that stop you from writing! We always make room for good manuscripts on any elementary science topic.
Upcoming Themes
May/June 2021: Digital Literacy
Deadline August 1, 2020
"Never before has there been a more powerful influence on human behavior, irrespective of country or culture, than the combined effect of digital technologies."—Mervyn Eyre, executive vice president, Fujitsu Americas
Digital literacy, as one of the 21st-century learning skills, is defined as the ability to find, evaluate, share, and create content using the internet. How are preschool and elementary teachers finding opportunities for students to develop and grow their digital literacy? What innovative ways are teachers using digital platforms to excite, engage, provide differentiation opportunities, and promote lifelong learning?
We all use the internet to find quick answers, yet digital literacy goes beyond simple "Googling." Students can use digital literacy to deepen their own learning, communication skills, creativity, and cultural understandings. Digital literacy includes understanding e-safety, enhancing collaborative learning, and evaluating sources of information. Digital literacy plays an essential role in the collection and communication of information and claims. Students need to develop their ability to discern, evaluate, and then effectively communicate using digital platforms.
Additional focus for this issue may include, but are not limited to, the following:
Share how integrated digital literacy enhanced a lesson or instructional sequence within the science and engineering classroom.
Describe how including digital literacy has provided opportunities for collaboration, creativity, and critical thinking in solving problems and finding solutions.
Describe how innovative digital opportunities promote engagement in all aspects of science learning (DCI, SEP, CC).
Identify how a teacher can effectively use digital literacy in differentiating lessons for students with special needs. Share student alternatives for seeking, analyzing, and sharing information.
July/August 2021: Global Connections
Deadline October 1, 2020
Let's face it, our world is shrinking due to technological advancements in communication and transportation, and that's a good thing! It means we can more easily learn from others, share ideas across the globe, and tackle crucial worldwide issues. What better way to build a collective vision for global citizenry than to have students engaged in problem-solving, creative thinking, and the sharing of data not just across the hallway, but with students on the other side of the world!
The benefits are endless as students learn about other cultures, traditions, languages, and they build empathy as well as mutual respect. Whether it's student collaborative projects or teacher collaborations, we learn so much from engaging in real-world situations. This truly opens minds and hearts as we learn about our sameness and similar struggles.
This issue, we will focus on your experiences and successes in building a global connection where students are learning from and with others as they tackle science and engineering issues affecting our world. Through global connections, we can solve problems, strengthen understanding of critical worldwide issues, and build long-lasting collegial relationships.
Note: we are not seeking reflective pieces about global collaborations; instead, please share your experiences in a way so that our readers can replicate portions or an entire project or learning experience.
Additional focus for this issue may include, but are not limited to, the following:
Share how including global connections and resources enhanced a lesson or instructional sequence for students. How did the global connection augment student learning?
Explain a project of collaboration for teachers, with an opportunity to focus on global issues in science and engineering teaching and learning. How has an emphasis on global collaboration affected student engagement, perspectives, and attitudes towards finding solutions?
Identify key worldwide issues that lend themselves to global learning collaborations. Share how these worldwide issues, addressed through the global lens, have added to student understandings of essential science and engineering concepts.
September/October 2021: Three-Dimensional Teaching and Learning
Deadline December 1, 2020
The idea of three-dimensional teaching and learning has been around since the release of A Framework for K–12 Science Education (2012) and the Next Generation Science Standards (2013). We have all seen the blue, orange, and green pillars or multicolored bundled rope model aimed to represent the interweaving of the three dimensions to support mastery of performance expectations. Yet, how are three-dimensional lessons and units designed so that they provide opportunities for students to actively engage with the practices and apply the crosscutting concepts as they deepen their understanding of core ideas across disciplines?
Making sense of phenomena and designing solutions has become a driving force behind the three-dimensional learning process. Science is more than a list of memorized facts; science requires critical thinking, communication, and creativity. For students to experience science and engineering "as" scientists and engineers, we must encourage them to ask questions and solve problems. Through sensemaking and student-led inquiries, students can deepen their understanding of the world around them. We are looking for manuscripts that offer students opportunities to be immersed in three-dimensional learning, sharing how this translates into the preschool or elementary learning environment. Article suggestions for this issue include, but are not limited to, the following:
Describe how three-dimensional learning is essential for all children regardless of language, gender, race, ethnicity, age, skill, cognitive and physical abilities, or economic status.
Share how students, when engaged in three-dimensional learning, can participate in meaningful discourse with their peers—similar to the work of scientists and engineers—as they make sense of phenomena or design solutions to problems.
Explain how students can apply their understanding of the nature of science to make informed decisions on personal, societal, and global issues.
Provide examples of assessment of learning that matches three-dimensional learning experiences.
Share how three-dimensional teaching can be supported through distance or virtual learning platforms.
Identify and describe effective instructional models that support three-dimensional science instruction.
November/December 2021: The Language of Science
Deadline February 1, 2021
An integral part of science is communication, whether reading, writing, listening, or speaking. How are students supported in learning science, and how can science support language development? Teachers are finding that including science as the context for learning allows students to strengthen language arts skills. When language arts skills, explicitly taught, are included as part of science instruction, there are opportunities for meaningful, enduring learning.
For this issue of Science and Children, we are looking for articles that help teachers explore the connections between language development and science/engineering. What instructional strategies intensify sense-making and focus on the development of scientific discourse for all students? Whether it's a content-first approach or allowing students to develop meaning through phenomena, how do we support both language development and scientific thinking?  
Article suggestions for this issue include, but are not limited to, the following:
Share instructional strategies that build science concepts and vocabulary, including approaches for actively engaging EL students.

Provide examples for classroom-tested lessons that develop language and sense-making through accountable talk, Socratic circles, student-centered discussions, and content-focused conversations.

Illustrate how purposeful genre-study, specific to science, develops essential language skills.

Describe techniques for enhancing students' ability to speak, read, and write about science and engineering experiences.

Share plans for immersive, language-rich classrooms where students are actively engaged in scientific discourse.
January/February 2022: Design Thinking
Deadline April 1, 2021
How often do we allow children the opportunity to define and solve problems that are most important to them? That is just what Design Thinking (DT) does, and it all starts with empathy. Students aren't just solving problems; they design solutions and consider how designs and solutions affect people. 
Design Thinking has been around for many years, with the Stanford d.school offering comprehensive resources and a framework for the application. DT differs from traditional problem-solving in several key components. Problem-solving is often seen as a straightforward approach to problem identification, plan formulation, and success rate assessment. In contrast, DT starts with looking, listening, and observing what people need. The focus is on the people, not the problem. 
We are looking for manuscripts that share how Design Thinking has influenced and enhanced teaching and learning. Share how DT has elevated essential 21st century skills of creativity, communication, collaboration, and critical thinking in preschool and elementary classrooms.
Article suggestions for this issue include, but are not limited to, the following:
Share classroom-tested ideas where students are engaged in Design Thinking. 

When actively involved in DT of a global, local, or site/situation/event-specific problems, describe how students grow as learners.

Identify how DT aligns with culturally responsive teaching, including related issues of equity and social justice.

Describe how Design Thinking supports the Makerspace environment.

Share how DT can encourage ELLs or students with special needs to join the conversation. How, through empathy, can all voices be heard in the classroom? 
March/April 2022: Water in Our World
Deadline June 1, 2021
We all know water covers 71% of the Earth. We also know life as we know it depends on water. Yet how do we teach our children to love, respect, and understand all that water offers? Whether it's playing in a puddle to learn about evaporation, or debating water use rights, young students can be actively engaged in learning about one of Earth's most precious resources: water.
Share how focusing on water can fluidly help us teach three-dimensional, cross-curricular lessons that will make a splash with students. With so many connection points in trade books, current events, and the DCIs of NGSS, where students can learn about the importance of water in our world, we are looking for ideas that promote critical thinking and long-lasting understandings.
Article suggestions for this issue include, but are not limited to, the following:
Share a classroom-tested lesson/unit of study that focuses on some aspect of water.

Illustrate how focusing on water can teach core ideas in science through connections with literature/trade books.

Describe a citizen science or PBL where students explored a complex issue concerning water.

Share how a traditional water lesson/unit can be shared through distance learning.
May/June 2022: Information Processing
Deadline August 1, 2021
By definition, Information Processing is the acquisition, recording, organization, retrieval, display, and dissemination of information. In today's world, we often associate Information Processing with computers. Yet for K–5 students, LS1.D Information Processing focuses on how organisms detect, process, and use information about environments. Whether it's an animal responding to a sighting of a predator, an instinctive response to changes in weather precipitating migration, or how plants respond to stimuli, this DCI allows for multiple entry points for student-directed learning.
For this issue of Science and Children, we are looking for innovative, intriguing classroom-tested ideas for preschool and elementary students' learning about Information Processing. Article suggestions for this issue include, but are not limited to, the following:
Share how students can be engaged in three-dimensional learning as they increase their understanding of how plants and animals can sense and respond to the world around them.

Describe a lesson or unit of study where students are the drivers of the learning through exploring phenomena with student-led inquiries focusing on Information Processing.

Share common misconceptions students bring to this topic and how these can be dispelled as students are offered opportunities to re-conceptualize their understandings through investigations and modeling.

Explain a sequence of critical points in the learning progression necessary to build essential understandings of the core ideas of Information Processing.
Not ready to pen a feature article?
Consider writing a column. These shorter, focused pieces are the perfect way to share your experiences with the wider elementary science community.
Teaching Teachers
With the goal of "enhancing the repertoire of preservice and inservice teachers," this column provides information for undergraduate instructors, those responsible for professional development programs, and classroom teachers seeking guidance in developing their instructional skills. A Framework for K–12 Science Education acknowledges that science certification requirements are fairly weak for elementary teachers. With the significant changes recently adopted by many school systems, inservice elementary teachers may now find themselves with additional demands. We are seeking manuscripts that focus on the needs of elementary science teachers and those entering the profession by providing deep understanding of the elements of the Next Generation Science Standards (NGSS); research-based teaching and learning strategies to help reach all students; and a solid knowledge base in STEM core ideas. As stated in the Framework, teachers also require, "… experiences that help them understand how students think, what they are capable of doing, and what they might reasonably be expected to do under supportive instructional conditions" (p. 257). Articles should be strengthened by providing an application of ideas to an actual classroom experience. Length: 2000 words
Early Childhood Resources Review
Science learning in the early years has gained renewed importance in recent years, with research pointing to young children's capacity to develop conceptual abilities. A natural outgrowth is attention to science as a topic of study in preK, Head Start, and child care programs. Practitioners, often with little background in science, are wondering what young children can learn about science and how best to teach them. To help answer these questions, Science & Children has launched this column that provides reviews of some of the best resources designed specifically for teaching science to young children. Reviewers select resources that present relevant and appropriate science content and describe inquiry-based approaches to engaging young children in the practices of science and engineering, as described in the Next Generation Science Standards. For specific resource review criteria, more information concerning providing a review for publication consideration, or to suggest a review be provided for a specific resource, contact column editor Sonia A. Yoshizawa at yoshizawa@etsu.edu.
Methods and Strategies
This column provides ideas and techniques to enhance science teaching. This is S&C's "think piece" and connects science teaching with research on teaching and learning. This is done by sharing an account of a method or strategy used in the classroom and explaining how its use is supported by research. While the presentation of the method or strategy is often content-based, the method or strategy should be applicable to other settings and other content. Length 2000 words
Engineering Encounters
We are seeking column submissions that present classroom-tested, novel, and engaging lessons for preK–5 students. They should include all of the components necessary for an engineering investigation to be completed and assessed, from design to implementation. Be sure to bring the voices of students and the teacher to the manuscript. In other words, focus on application of instruction that provides a peek into the classroom. We are also interested in submissions that provide background information for the teacher that will support the teacher's ability to construct his or her own engineering lessons. This might include suggestions as to where more information can be found concerning high-quality lessons, strategies for structuring lessons, resources that support teaching and learning, and strategies for use in evaluating lessons and materials. Length: 2000 words.
Upcoming issues
September/October 2020 Beyond the Field Trip
November/December 2020

Earth and Space for Young Learners

January/February 2021

Engineering Design

March/April 2021

Culturally Responsive Teaching

May/June 2021 Digital Literacy

July/August 2021 Global Connections

September/October

2021 Three-Dimensional Teaching and Learning

November/December

2021 Language of Science

January/February

 2022 Design Thinking

March/April 2022 Water in our World

May/June 2022 Information Processing

July/August 2022 Claim-Evidence-Reasoning