Call for Papers: Science and Children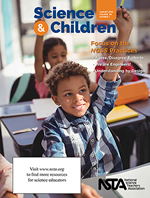 Your 2000-word manuscript should describe a set of connected lessons or investigations that build an idea or content area. They should include assessments (pre-, post- and formative) as well as enough detail that another teacher could replicate the lessons in the classroom. Examples of student work are encouraged.
Please read our manuscript guidelines before submitting your manuscript. Manuscripts should be submitted electronically; once online, follow the steps for New Author Registration. For more information, contact managing editor Valynda Mayes at vmayes@nsta.org.
Don't see a theme that fits your idea? Don't let that stop you from writing! We always make room for good manuscripts on any elementary science topic.
Nov/Dec 2023: Making Science Accessible for ALL
DEADLINE EXTENDED (now June 1)
How are we reducing barriers to access and finding ways to make science learning relevant, engaging, and accessible for our students? When we emphasize building accessible learning spaces, with varied learning materials and experiences, with opportunities for communication, we help create a more inclusive, supportive classroom environment for all students. We can help reduce social stigmas and marginalization of students and provide learning opportunities where all students are valued members of the learning community.  
Whether we are addressing physical classroom configurations, modifications that allow increased access, or strategies that reduce barriers and emphasize student engagement, we are creating more equitable and inclusive learning communities.
Article suggestions for this issue include, but are not limited to, the following:
Share how science classroom environments and routines can be structured to be more accessible and inclusive.

Describe a science or STEM lesson focusing on effective differentiation strategies to increase student engagement.

Considering students' social-emotional development, share high-quality science and STEM resources to support young learners' emotional needs.

Additionally, consider sharing strategies for developing and implementing such things as inclusive field trips, interactive technologies, lesson modifications for varying ability levels, and creating safe, supportive classrooms that honor all learners.

Describe how we can encourage students with exceptionalities to consider science and science-related careers.
January/February 2024: Crosscutting Concepts
DEADLINE EXTENDED (now June 1)
A Framework for K–12 Science Education (NRC 2012) has provided us with important conceptual shifts in how students learn and why it is essential to prepare students to be able to not only "know" science but to be able to "do" science. Across the country, many states have adopted the Next Generation Science Standards or created closely aligned versions. 
Teachers have been working with disciplinary core ideas (the "what") and the science and engineering practices (the "how") and have productively integrated them into their teaching practice. But what about the crosscutting concepts? Many teachers need help with how and when to fit them into the learning. To others, these remain a mystery, often left out or tacked on to the end of lessons.
The crosscutting concepts have been referred to as structured reflection lenses used to help explain phenomena, as application points that allow students to study phenomena from different perspectives, or as thinking tools to understand phenomena. According to The Framework, "Crosscutting concepts have value because they provide students with connections and intellectual tools that are related across the differing areas of disciplinary content and can enrich their application of practices and their understanding of core ideas" — NRC 2012, p. 233.
Let's move the crosscutting concepts from being the left out, forgotten, or often overlooked dimension to being a powerful addition to your students' three-dimensional science toolkit.
Article suggestions for this issue include, but are not limited to, the following:
Explain how you use the crosscutting concepts to help students make sense of various content to develop a more robust, long-lasting understanding of science and engineering.

Share how focusing on using the crosscutting concepts in tried-and-true lessons has elevated learning and increased student engagement and proficiency.

Describe a lesson where the crosscutting concepts allowed students to engage more deeply and metacognitively in their shared learning.

Identify how crosscutting concepts can be coupled or bundled to increase student attention to the causal relationships in phenomena.

Focusing on assessment, share how formative assessment using the language of the crosscutting concepts can help students make sense of phenomena and allow them to provide more detailed, connected responses.
March/April 2024: Climate Justice
Deadline June 1, 2023
It's time to think about making connections between science, citizen action, and solving global issues. The current news details stories of shrinking habitats and increased ferocity of natural disasters, revealing inequities in community resources and resiliency.
Climate justice is inseparable from social justice. Some people are more vulnerable than others to the destabilization of Earth's systems caused by our changing climate. Understanding scientific concepts has become essential in this wide-ranging societal issue, with implications for individuals, communities, and international stability. Science learned in school is vital and relevant. 
Teaching climate science may feel daunting for teachers as we often rightfully fear inflicting trauma or doomsday scenarios on young learners. But students are well aware of changes influenced by climate and our role in these changes. Climate science, as community science or citizen science, may help bridge this divide. Promoting climate justice can foster more than stewardship; young citizens can see themselves as making a difference, informing experts, and powerfully connecting with their community.
Article suggestions for this issue include, but are not limited to, the following:
Share a community science project where students, families, and the community participated in a phenology study. Phenology studies seasonal life-cycle patterns such as flower blooms, bird nest building, and turtle egg laying.  

Describe a climate justice lesson or study where students shared results or finding to be used directly in conservation work, resource management, or policy change—for example, changes in school/community recycling, native plant restorations, or wetland management.

Identify how technology has enhanced climate lessons through data collection, variable manipulation, ability to compare habitats far and wide and through time.  

Explain how a local phenomenon (flood, drought, fire, inequity of resources) inspired students to communicate through local action and climate solutions.

Share ways indigenous communities have communicated and responded to climate change innovatively. 
May/June 2024: Connecting Mathematics and Science
Deadline June 1, 2023
Science and mathematics go hand in hand, yet many teachers struggle to find the connection points that would promote conceptual understandings in both areas. We all know students learn best when subjects are integrated, not siloed into "let's put our mathematician hats on now" or "it's science time, let's think like scientists." As mathematics and science educators, we need to support our colleagues by identifying and implementing effective strategies to meaningfully and purposefully integrate mathematics and science. Let's dive deeper beyond the familiar integration points of data collection, graphing, and measurement to share purposeful ways to develop scientific and mathematical thinkers who are ready to solve problems and make sense of their world.
In a partnership with the National Council of Teachers of Mathematics' Mathematics Teacher: Learning and Teaching PK–12, Science and Children will explore how to deepen conceptual understandings of mathematics and science through authentic learning experiences that intertwine mathematics and science in preschool and elementary classrooms.
For this collaborative issue, authors may submit companion pieces to each journal, a fully integrated science lesson with a mathematics connection to S&C (https://mc.manuscriptcentral.com/nsta/), or a fully integrated mathematics lesson with a science connection to MTLT (https://mc04.manuscriptcentral.com/mtltpk12). Articles will either appear as companion articles in respective journals or be shared as cross-curricular articles in both journals.
Article considerations include but are not limited to the following:
Share a lesson where mathematics and science content are fully integrated, allowing students to make sense of conceptual understandings in both subject areas.

Develop a lesson focusing on students' reasoning abstractly and quantitatively to explain or communicate the results of scientific explorations using arguments from evidence.

Describe a lesson or unit of study that cultivates essential understanding allowing students to view mathematics and science as tools to question, analyze, represent, and communicate findings.  

Share a lesson where students use mathematical and computational thinking to build relationships and models to make sense of observations and collected data gathered during a scientific investigation.

Incorporate engineering and technology with mathematics and science for a complete STEM lesson. 
July/August 2024: Assessment
Deadline July 1, 2023
Assessment, they say, drives instruction. So, what kind of assessment should we focus on when students are developing early science and engineering experiences and practices? What should we be assessing, how should we assess it, and when should the assessment occur?  
This issue of Science and Children will focus on answering those questions with implementable, thoughtful ways to include a variety of strategies to assess our early learners. As a result, we can explore what assessments tell us about our students and about our teaching.
Article suggestions for this issue include, but are not limited to the following:
Share how teachers, including preservice, can create and use three-dimensional assessments to inform instruction. What makes a 3D assessment meaningful?

Provide examples of how technology can support practical assessment.

Consider how we can ensure that our assessments address diversity, equity, and inclusion. How can we avoid creating learning barriers for our students?

Describe how best to prepare students for traditional testing, i.e., standardized testing.

Compare when and how to use formal and informal assessments throughout a lesson or unit of study. How can we make learning visible and uncover misconceptions?

Share how you have developed assessments with interdisciplinary connections.
September/October 2024: Phenomena-Driven Instruction
Deadline August 1, 2023
By now, we've all heard the term phenomena. We understand its implications in effectively implementing Next Generation and Framework-inspired teaching and learning. According to the Next Generation Science Standards, phenomena are observable events in our world that we can use science and engineering knowledge to explain, predict, or solve. Phenomena are considered the context for the work of both scientists and engineers.
But how do we embrace the idea of allowing students to figure things out, explain what they notice, and deepen their own understandings through the instructional lens of using phenomena? Our readers want to know how they can more effectively incorporate the use of phenomena in their classrooms.
Article suggestions for this issue include, but are not limited to the following:
Share how you have taken a time-tested lesson and reimagined using a phenomenon approach.

Describe how students can be more engaged and communicative when the learning incorporates phenomenon.

Explain how the teacher's role changes when employing phenomena-driven instruction. Suggest how these role changes can be accomplished and why they support student learning.

Identify how classroom environments change when students are making sense of phenomena. What are anchoring, investigative, and everyday phenomena?

Share how a culture of inquiry is built within a classroom when focusing on making sense of phenomena.

Consider how we can ensure that our teaching practice addresses diversity, equity, and inclusion. For example, how can we create common learning experiences to help "level the playing field" for all students?
November/December 2024: Expansive Science Teaching Practices
Deadline February 1, 2024
According to Dr. Nicole Tempel Assisi, we need a new model of teaching pedagogy. She says, "An expansion of our pedagogy is imperative to prepare learners for an uncertain world. While subject specific content knowledge and applications may be just as pertinent today as ever before, it is more important now than ever to instill in our learners the capacity to own and be in charge of their learning."
How can we position ourselves to help our students meet the challenges of the future? We underscore the need to recognize and dismantle barriers that limit marginalized students' access to powerful, productive learning opportunities. Our readers want to hear about how we can reimagine student engagement, reexamine resources, and reinvigorate a sense of agency within our classrooms and schools. It's time to rethink our roles, resources, and responsibilities to promote change within our schools.
With the many goals set for science education, we want to look for transformative changes that allow for creativity and flexibility in our practice. As teachers become more comfortable with the content, they can expand their teaching practices to enhance how science is taught.
Article suggestions for this issue include, but are not limited to the following:
Describe real-world problems students and teachers face and how embracing these challenges creatively and flexibly can transform student engagement and knowledge-building practices.

Provide information about how technologies and computer-supported learning can be effectively integrated into teaching practices.

Explain how considering student aptitude and ability through an asset-based rather than a deficit model can promote successful learning environments.

Share a successful preservice methodology where prospective teachers learn to embrace sensemaking, acknowledge the role of student voice and choice, and develop the expertise to co-construct knowledge with students in the classroom.

Share how expansive learning theory has influenced mindset shifts within classrooms, schools, and institutions, leading to transformative changes.
Not ready to pen a feature article?
Consider writing a column. These shorter, focused pieces are the perfect way to share your experiences with the wider elementary science community.
NEW! Leadership Matters: Tools, Strategies, and Resources to Support Leaders
Educational leadership encompasses various roles and opportunities, from classroom experts to national policy decision-makers. In collaboration with the National Science Education Leadership Association (NSELA), Science and Children will explore aspects of developing and supporting science educator leadership within the classroom, school, district, and beyond. This column will highlight innovative, best-practice ideas in K–5 science and engineering teaching and learning that reflect the vision of A Framework for K–12 Science Education (NRC 2012) to enhance teaching and learning in preschool and elementary science classrooms. Length: 2000 words.
Article suggestions for this column include, but are not limited to, the following:
Share examples of science education leadership opportunities, enhancing the professional competence and leadership status of elementary science education.
Provide pathways that promote equitable opportunities and cultural awareness in science and STEM teaching and learning, including the involvement of families and the community.

Share ideas for universities and/or informal science institution partnerships in which efficient and effective leadership opportunities for elementary science are practiced.

Illustrate how shifts in science teaching and learning can be sustained and supported through transformative professional development and leadership roles for elementary educators. 

Share practical strategies, tools, and resources elementary science leaders can use to build the confidence and capacity of elementary teachers to teach science effectively.
Please contact column editor Kathy Renfrew at krsciencelady@gmail.com for more information and submissions.
Teaching Teachers: Enhancing the repertoire of preservice and inservice teachers
With the goal of "enhancing the repertoire of preservice and inservice teachers," this column provides information for undergraduate instructors, those responsible for professional development programs, and classroom teachers seeking guidance in developing their instructional skills. A Framework for K–12 Science Education acknowledges that science certification requirements are fairly weak for elementary teachers. With the significant changes recently adopted by many school systems, inservice elementary teachers may now find themselves with additional demands. We are seeking manuscripts that focus on the needs of elementary science teachers and those entering the profession by providing deep understanding of the elements of the Next Generation Science Standards (NGSS); research-based teaching and learning strategies to help reach all students; and a solid knowledge base in STEM core ideas. As stated in the Framework, teachers also require, "… experiences that help them understand how students think, what they are capable of doing, and what they might reasonably be expected to do under supportive instructional conditions" (p. 257). Articles should be strengthened by providing an application of ideas to an actual classroom experience. Length: 2000 words
Start with Phenomena: Making Sense of the Natural and Designed World
Let's start with the phenomena. We've heard a great deal about the use of phenomena recently as an essential part of implementing NGSS. What are phenomena, and how are they used in science and engineering classrooms? Where do phenomena fit within an instructional sequence or lesson?
According to NGSS, phenomena are observable events in our world where we can use science and engineering knowledge to explain, predict, or solve. Phenomena are considered the context for the work of both scientists and engineers.
For this column, we are looking for classroom-tested lessons that highlight the use of phenomena to pique student interest in developing explanations or solutions and create authentic opportunities for student learning. Whether it's an anchor, investigative, or everyday phenomenon, tell us how you've used well-placed phenomena to deepen and enrich learning experiences for students. Explain how the introduction of this phenomenon helped the students engage in three-dimensional learning. Provide evidence for deep learning and student engagement when you start with phenomena. Length: 2000 words
Early Childhood Resources Review: Evaluating Science Resources
Science learning in the early years has gained renewed importance in recent years, with research pointing to young children's capacity to develop conceptual abilities. A natural outgrowth is attention to science as a topic of study in preK, Head Start, and child care programs. Practitioners, often with little background in science, are wondering what young children can learn about science and how best to teach them. To help answer these questions, Science & Children has launched this column that provides reviews of some of the best resources designed specifically for teaching science to young children. Reviewers select resources that present relevant and appropriate science content and describe inquiry-based approaches to engaging young children in the practices of science and engineering, as described in the Next Generation Science Standards. For specific resource review criteria, more information concerning providing a review for publication consideration, or to suggest a review be provided for a specific resource, contact column editor Kelly Russell at krussell@bsc.edu.
Cross-Curricular Connections: Integrated, Authentic, Purposeful Classroom Experiences
"I have no time to teach science" is the resounding cry from many teachers. The frequently heard response is, "try cross-curricular integration." With some planning, science can be integrated with current language arts and mathematics curricula to provide meaningful learning experiences that will address all subject areas and free up classroom time. 
But what does cross-curricular integration look like, and how are units and lessons developed so that they are effectively and meaningfully cross-curricular? Where can curricula integration points be found? 
For this column, we would like to explore purposeful examples of cross-curricular integration.  Share how cross-curricular integration enhances the learning opportunities for all students.  Provide authentic examples for integrating subject areas such as language arts, mathematics, social studies, and technology with science to deepen the learning experiences. Length: 2000 words
Methods and Strategies: Ideas and techniques to help your science teaching
This column provides ideas and techniques to enhance science teaching. This is S&C's "think piece" and connects science teaching with research on teaching and learning. This is done by sharing an account of a method or strategy used in the classroom and explaining how its use is supported by research. While the presentation of the method or strategy is often content-based, the method or strategy should be applicable to other settings and other content. Length 2000 words
Engineering Encounters: Creating a classroom culture for engineering
We are seeking column submissions that present classroom-tested, novel, and engaging lessons for preK–5 students. They should include all of the components necessary for an engineering investigation to be completed and assessed, from design to implementation. Be sure to bring the voices of students and the teacher to the manuscript. In other words, focus on application of instruction that provides a peek into the classroom. We are also interested in submissions that provide background information for the teacher that will support the teacher's ability to construct his or her own engineering lessons. This might include suggestions as to where more information can be found concerning high-quality lessons, strategies for structuring lessons, resources that support teaching and learning, and strategies for use in evaluating lessons and materials. Length: 2000 words.
Upcoming issues
May/June 2023 Environmental Science: Natural Disasters

July/August 2023 Inspired by Nature: Biomimicry

September/October 2023 Eclipses Across America

Nov/Dec 2023: Making Science Accessible for ALL

Jan/Feb 2024: Focus on the Crosscutting Concepts

March/April 2024: Climate Justice

May/June 2024:

Connecting Mathematics and Science

July/Aug 2024: Formative Assessment

Sept/Oct 2024: Phenomena-driven Instruction

Nov/Dec 2024: Expansive Teaching Practices