Call for Papers: Science and Children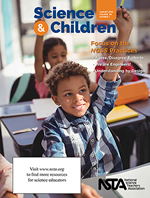 Your 2000-word manuscript should describe a set of connected lessons or investigations that build an idea or content area. They should include assessments (pre-, post- and formative) as well as enough detail that another teacher could replicate the lessons in the classroom. Examples of student work are encouraged.
Please read our manuscript guidelines before submitting your manuscript. Manuscripts should be submitted electronically; once online, follow the steps for New Author Registration. For more information, contact managing editor Valynda Mayes at vmayes@nsta.org.
Don't see a theme that fits your idea? Don't let that stop you from writing! We always make room for good manuscripts on any elementary science topic.
Upcoming Themes
July/August 2022: Fostering Scientific Literacy
Deadline October 1, 2021
Elementary teachers have been using various scaffolding strategies to help students connect concepts, organize their thinking, and focus on scientific explanations. How do we construct authentic learning investigations where students can employ similar approaches used by scientists? As students make sense of their world; they actively focus on the science and engineering practices of Engaging in Argument from Evidence, Constructing Explanations, and Obtaining, Evaluating, and Communicating Information. Whether we are focusing on the Nature of Science (Appendix H, NGSS), or providing scaffolded communication techniques such as Claim-Evidence-Reasoning (C-E-R), we want our students to be immersed in all aspects of science; including sharing written and oral results, evaluations, explanations, and rebuttals.
Article suggestions for this issue include, but are not limited to, the following:
•    Share effective strategies for student sensemaking by developing authentic learning opportunities using a variety of methods, tools, and techniques.
•    Describe how students can be guided to generate questions and engage in argumentation as they plan and carry out student-led inquiries.
•    Explain how students can be supported to respond to investigative questions with evidence and scientific explanation with guided tools such as C-E-R.
•    Share a lesson where students delve into the nature of science as they explain natural phenomena.
•    Identify successful examples of using scaffolded communication strategies to help students develop scientific discourse, including constructing explanations, critiquing alternative explanations, or addressing misconceptions.
November/December 2022: Earth's Place in the Universe
Deadline February 1, 2022
Understanding how Earth fits into our space system is addressed in first grade and then again in fifth grade. Young
learners are often excited to learn about moons, planets, and
stars. Yet, these can be challenging concepts to teach because
they are inherently observational and often require measurements of time, physical size, and distance beyond young learners' scope. How can we engage our young learners with memorable, age-appropriate learning experiences that support sensemaking in later grades? Article suggestions for this
issue include, but are not limited to, the following:
Share how students develop and use models of the Earth-Sun-Moon system to describe and predict cyclic movements and patterns.
Describe lessons focusing on seasonal patterns starting with anchor phenomena.
Explain how students can use data to support an argument that the direction of the gravitational force exerted by Earth on objects is toward the center of the spherical Earth.
Share how students can gain a sense of scale, proportion, and quantity by studying star brightness and distance from Earth.
Provide lesson ideas for students' sensemaking of shadows and the changing positions of the Sun, Moon, and stars throughout the year.
Not ready to pen a feature article?
Consider writing a column. These shorter, focused pieces are the perfect way to share your experiences with the wider elementary science community.
Teaching Teachers
With the goal of "enhancing the repertoire of preservice and inservice teachers," this column provides information for undergraduate instructors, those responsible for professional development programs, and classroom teachers seeking guidance in developing their instructional skills. A Framework for K–12 Science Education acknowledges that science certification requirements are fairly weak for elementary teachers. With the significant changes recently adopted by many school systems, inservice elementary teachers may now find themselves with additional demands. We are seeking manuscripts that focus on the needs of elementary science teachers and those entering the profession by providing deep understanding of the elements of the Next Generation Science Standards (NGSS); research-based teaching and learning strategies to help reach all students; and a solid knowledge base in STEM core ideas. As stated in the Framework, teachers also require, "… experiences that help them understand how students think, what they are capable of doing, and what they might reasonably be expected to do under supportive instructional conditions" (p. 257). Articles should be strengthened by providing an application of ideas to an actual classroom experience. Length: 2000 words
Early Childhood Resources Review
Science learning in the early years has gained renewed importance in recent years, with research pointing to young children's capacity to develop conceptual abilities. A natural outgrowth is attention to science as a topic of study in preK, Head Start, and child care programs. Practitioners, often with little background in science, are wondering what young children can learn about science and how best to teach them. To help answer these questions, Science & Children has launched this column that provides reviews of some of the best resources designed specifically for teaching science to young children. Reviewers select resources that present relevant and appropriate science content and describe inquiry-based approaches to engaging young children in the practices of science and engineering, as described in the Next Generation Science Standards. For specific resource review criteria, more information concerning providing a review for publication consideration, or to suggest a review be provided for a specific resource, contact column editor Sonia A. Yoshizawa at yoshizawa@etsu.edu.
Methods and Strategies
This column provides ideas and techniques to enhance science teaching. This is S&C's "think piece" and connects science teaching with research on teaching and learning. This is done by sharing an account of a method or strategy used in the classroom and explaining how its use is supported by research. While the presentation of the method or strategy is often content-based, the method or strategy should be applicable to other settings and other content. Length 2000 words
Engineering Encounters
We are seeking column submissions that present classroom-tested, novel, and engaging lessons for preK–5 students. They should include all of the components necessary for an engineering investigation to be completed and assessed, from design to implementation. Be sure to bring the voices of students and the teacher to the manuscript. In other words, focus on application of instruction that provides a peek into the classroom. We are also interested in submissions that provide background information for the teacher that will support the teacher's ability to construct his or her own engineering lessons. This might include suggestions as to where more information can be found concerning high-quality lessons, strategies for structuring lessons, resources that support teaching and learning, and strategies for use in evaluating lessons and materials. Length: 2000 words.
Upcoming issues
May/June 2021 Digital Literacy

July/August 2021 Global Connections

September/October

2021 Three-Dimensional Teaching and Learning

November/December

2021 Language of Science

January/February

 2022 Design Thinking

March/April 2022 Water in our World

May/June 2022 Information Processing

July/August 2022

Fostering Scientific Literacy