Call for Proposals
NSTA Engage: Spring21 • April 12 – May 8
We are accepting proposals for this virtual conference based on the strands and criteria listed below.
The deadline for proposals is 11:59 PM EST on Tuesday, February 16.
Please note that we have a new session category for this virtual conference—virtual hands-on workshops! Only a limited number of these 60-minute hands-on sessions will be accepted. When submitting a proposal for this type of session, you must include a list of inexpensive and easily accessible items (including safety wear) that will be required to participate in this virtual hands-on workshop.
Confirmations for all accepted sessions will be e-mailed in mid-March.
Each week of NSTA Engage: Spring21 will focus on a different grade band:
Elementary Educators: April 12–17
Middle Level Educators: April 19–24
High School Educators: April 26–May 1
Postsecondary and Preservice: May 3–8
You can select all the grade level ranges that apply to your session when you submit your proposal.
Programming will be scheduled for approximately 3-4 hours each day, between 4:00 and 8:00 PM Eastern time. Live sessions that can be presented virtually are requested.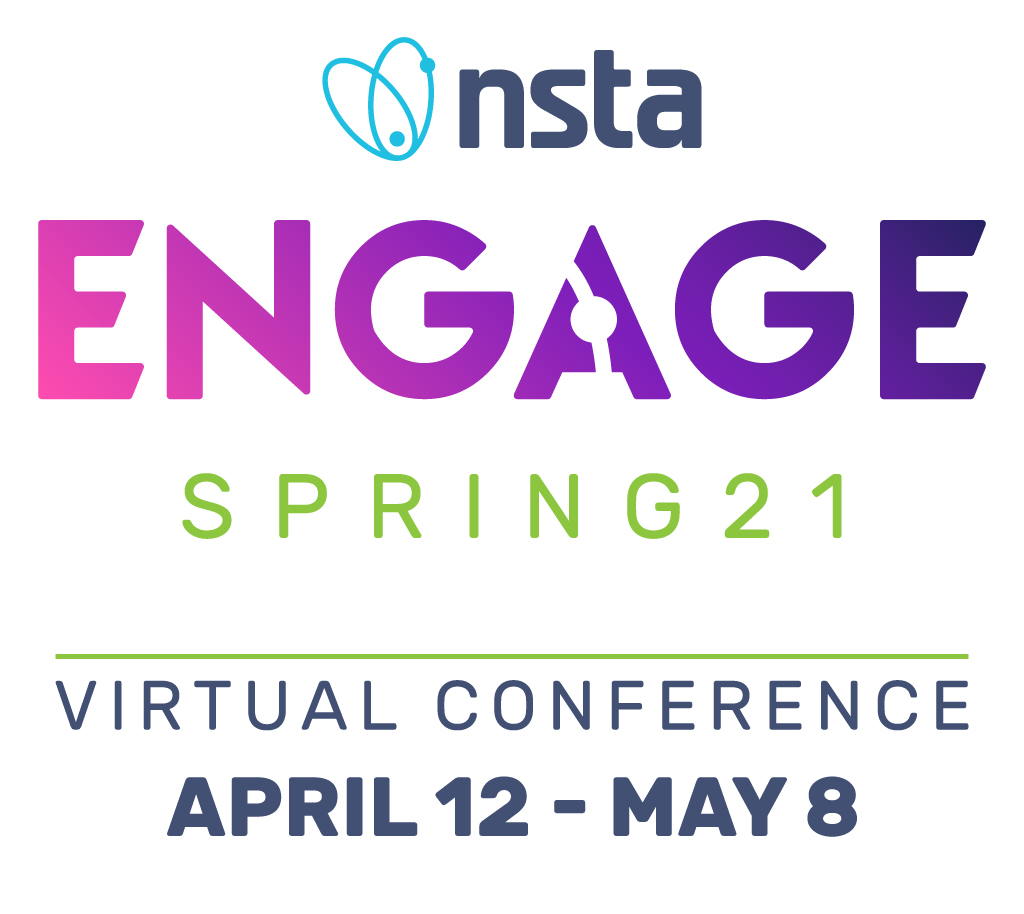 Conference Strands
To help you make the most of the professional learning opportunities available during this virtual conference, we have planned the conference around the following strands that explore topics of current significance, enabling you to focus on a specific area of interest or need.
Social Emotional Learning and the Science Classroom
The Next Generation Science Standards provide guidance on how students should investigate matter, forces, and living things. They also emphasize skills like teamwork, collaboration, and evidence-driven arguments. These are also skills that are integral to a student's social and emotional learning. And, of course, modeling good social and emotional care in a classroom setting begins with the educator and self-care.
Climate Justice and Climate Science
While everyone's health is threatened by the changes in climate, those who are socially and economically disadvantaged are at a greater risk. Obviously, these are intricately linked. How can educators fight climate change and environmental justice in the science classroom setting?
Supporting Equity in the Science Classroom
Removing biases in the science classroom requires that all students are provided equitable opportunities to learn science and to become engaged in STEM practices. In order for all students to reach their academic potential, it is imperative that educators create the most inclusive classrooms where science is targeted to include students with marginalized identifies who have traditionally experienced an opportunity gap.
Reimagining Assessment
Next generation educators are supporting systems to embrace more balanced, culturally responsive approaches to assessment that put students at the center. What are some of these strategies for redesigning assessment for learning as an integral part of the learning process?
Continuing Effective Distance Learning Strategies Post-COVID
While COVID has certainly challenged our creativity, many best practices have been identified, especially in distance learning. This strand will enable educators to describe what they have learned and how some of these strategies, tools, resources, and technologies can be implemented in the post-COVID classroom.
Community and Global Impacts on Classroom Learning
During any quick review of news headlines, one is reconfirmed of the interconnectedness of today's global society. In order to solve problems that transcend borders, it is important that students value diversity and different cultures as well as understand how these perspectives shape others. Equally significant is learning how, collectively, these perspectives can help to solve health and environmental crises.
Integrating Science and Literacy
Every educator struggles with the challenge of a crowded curriculum. Integrating inquiry-based science and literacy in a thoughtful and explicit approach makes efficient use of time in the classroom. This strand explores ideas and practices for how students can engage in real-world science while using literacy-based materials.
Criteria
Proposals will be evaluated on the extent to which they:
Support specifically identified parts of the NRC Framework, the NGSS, or state standards.
Support three-dimensional teaching and learning.
Are based on current and available research.
Involve participants through activities or discussion.
Are grounded in cultural competency (promotes equity, demonstrates the value of diversity, and addresses the impact of bias).