Guidelines for Authors: Journal of College Science Teaching
Why You Should Publish in JCST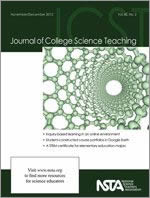 The Journal of College Science Teaching provides a forum for the exchange of ideas on and experiences with undergraduate science courses, particularly those for nonscience majors. JCST also reports and discusses innovative teaching materials, methods, and evaluative criteria; disseminate contributions toward improving college science instruction; and describes work in disciplinary science courses that is broad enough in its approach to appeal to teachers in other scientific fields. All manuscripts are peer reviewed.
Writing Tips
Write clearly and concisely, organize your material logically, and use an active voice and conversational tone. Avoid abstract or technical language and be sure to define specialized terms.
JCST prefers to publish articles that stress interdisciplinary aspects of science teaching, so please keep topics general; other fine journals exist (e.g., Journal of Chemical Education and the American Journal of Physics) for more specialized articles.
Manuscripts must be original and unpublished. Credit any other author's ideas that are used in the manuscript and explain in the text how your material builds upon, expands, or otherwise relates to work that has preceded yours.
What About Copyright?
Copyright laws protect your work. NSTA will hold the copyright to your article to facilitate reprinting and republishing in the future. If you wish to have your article reprinted elsewhere, you need to secure permission from NSTA.
Manuscript Presentation
Your manuscript should not exceed 3,000 words (4,000 words for Research and Teaching column). Longer manuscripts may be returned for revision without being reviewed.
Manuscripts should be word-processed and double-spaced.
Include a 200-word abstract of your article.
Use SI (metric) units throughout the article.
Tables, graphs, and charts should be appropriately labeled.
Financial support for work reported should be acknowledged at the end of the manuscript.
References within the text should cite in parenthesis the author's name and year of publication; the full citation should be included alphabetically by author's last name in a list at the end of the article.
Photographs and illustrations
To facilitate the review process, you'll need to submit a single, complete file. Consequently, any graphics that you would like to submit, such as figures, tables, photos, and illustrations, should be embedded in the text document. To minimize the size of the file, you can embed low-resolution images in the file. However, we will need you to archive high-resolution versions of the images for use by the journal if your manuscript is accepted for publication. Submit only copies, no originals.
Although we appreciate receiving author photographs and illustrations, we cannot guarantee that they will be used, and materials cannot be returned. Tape an identifying label on the back of each photo—do not write directly on the back of photos or paper clip them together. On a separate sheet of paper, include descriptions and photo credits.
Students in laboratory settings must be shown following appropriate safety guidelines and wearing proper safety attire, including full-wrap, splash-proof goggles. Their faces should be visible, but they should not look directly at the camera. If the photo is used, a signed model release will be required of each student pictured.
How to submit your manuscript
Manuscripts can be submitted electronically through Manuscript Central. When submitting the manuscript, you will be asked to provide each author's name, position, mailing address, e-mail address, home and work phone numbers, and fax number. To facilitate our blind review process, do not include any of this information within the electronic file that you submit.
If you have difficulty submitting the manuscript electronically, contact Janna Palliser, Managing Editor
Manuscript Checklist
Written clearly and concisely with an introduction and conclusion
Stresses interdisciplinary aspects of science teaching
Does not exceed 3,000 words (4,000 words for Research and Teaching column)
Contains a 200-word abstract
Uses only the SI (metric) system of weights and measures
Includes references that are complete and current