Guidelines for Authors: The Science Teacher
About The Science Teacher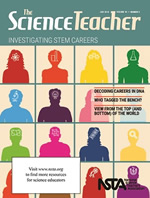 The Science Teacher is an award-winning, peer-reviewed, practitioners' journal with an audience made up of high school science educators who provide support for teachers, instructors of teachers, and preservice secondary education students. TST is published six times a year and is available in both hard copy and as an e-journal. TST subscribers are members of the National Science Teaching Association who select it as their preferred journal. We seek manuscripts that are inspirational and provide ideas for enhancing high school science teaching and learning. Features are articles written by educators for educators. The editorial staff of TST would like to thank you for considering TST as a venue for your ideas. We look forward to your contribution to the profession. (Note: NSTA offers no remuneration for published articles.)
Creating a manuscript for The Science Teacher
Deciding what to write about
To understand the voice and type of articles published in TST, it is strongly recommended that you begin by reading a few past issues. Even if you do not subscribe, you will find access to many articles in the NSTA Learning Center. Each issue of TST is structured around a theme (see the Call for Papers). The more your manuscript matches the theme described in the call for papers, the more likely it will be published in that issue. However, your manuscript does not have to address a theme. We regularly publish articles that are not on-theme to provide our readers with a broad spectrum of ideas.
Manuscripts should identify a grade-level reference. Our feature articles are teacher-student focused and should provide:
practical, timely classroom ideas and strategies that appeal to a wide audience and are accessible to the general readership of TST;
examples of teacher and student interactions that demonstrate that your manuscript is an authentic, classroom-tested activity; these examples might include student work, quotes from students and teachers, evaluation data, or other "snapshots" of classroom experiences;
suggestions for managing the activity that include examples of what may have gone wrong, unexpected results, and unforeseen challenges. If you are not a classroom teacher, consider partnering with one to field test your activity and capture authentic details;
all aspects of the learning experience from pre-assessment through summative assessment;
safety precautions. See the NSTA Safety in the Science Classroom, Laboratory, or Field Studies to assist you;
support for claims made in the manuscript, including research citations and personal anecdotal evidence.
We do not publish feature articles that
have been previously published in either print or digital format (websites, blogs, e-books, etc.);
focus on research without providing the practical details necessary for the application of your ideas;
contain material that is not original or do not provide a unique approach to a classic activity that provides teachers with a new teaching approach;
are strictly opinions, a personal rather than professional experience, travelogues, personal reflections, or diary-type submissions;
are term papers, dissertations, university writing assignments, unsupported lesson plans, lists of ideas, or materials reviews;
promote a commercial product such as materials, books, software, or professional services;
do not apply to grades 9–12.
Preparing your manuscript
There are several guidelines that need to be followed. If you ignore these guidelines, your manuscript will likely be returned to you. Also, please review this annotated sample manuscript.
Our manuscripts go through a double-blind peer-review process. Do not identify yourself or your institution within your manuscript. Do not include a cover sheet that includes your name. Submit only the blinded version to Manuscript Central.
Submit the main body of your manuscript as a Word document (.doc). Figures, photos, and other graphics may be embedded in your Word document, but we prefer that these elements be uploaded as separate files during the submission process (see Supplemental Materials section). Manuscript Central will convert all of the elements into a PDF for our reviewers. If accepted and assigned to a specific issue, the editorial team will be working with the original Word document submitted. Your manuscript will be returned if it is not submitted as a Word document, which will delay the review process.
The main body of your manuscript should be no more than 2,000 words. References, captions, sidebars, figures, and other supplementary text are not included in the word count.
Your manuscript should be double spaced, with one-inch margins, and numbered pages. Use a single 12-point font throughout the manuscript. Avoid extra formatting of any kind.
A 200-word abstract should accompany your submission.
References and resources lists should be alphabetized by author and limited to current, readily available items. Cite only the most germane references. Provide a page number for any direct quote. See previous issues of TST for reference format.
Manuscripts must identify how they align with the Next Generation Science Standards. The specifics should identify disciplinary core ideas by reference number and Science and Engineering practices by direct reference, including grade band endpoints. Do not include all of the practices; rather, select those that are most germane to the activities identified in your manuscript. It is also beneficial to identify the Cross Cutting Concept your manuscript addresses. National Research Council (NRC). 2013. Next generation science standards. Washington, DC: The National Academies Press (www.nextgenscience.org).
Please arrange the NGSS references in a table using the format shown below. The table should include a column that provides evidence of how the activities described in your article connect to the three dimensions of the NGSS. Connections to the Common Core State Standards are also welcome.
Submitting your manuscript
All manuscripts are submitted electronically through Manuscript Central. You will be asked to set up an account the first time you enter that system. Reviewers provide input to the Field Editor through Manuscript Central. The Field Editor will then communicate with you concerning decisions and reviewer suggestions. Revisions also go through Manuscript Central as well. Please note that both original manuscripts and any subsequent revisions need to be blinded before being submitted through Manuscript Central.
---
Standards
HS-ESS2 Earth's Systems
HS-ESS3 Earth and Human Activity
Performance Expectation(s)
The chart below makes one set of connections between the instruction outlined in this article and the NGSS. Other valid connections are likely; however, space restrictions prevent us from listing all possibilities. The activities outlined in this article are just one step toward reaching the performance expectations listed below.
HS-ESS2-4. Use a model to describe how variations in the flow of energy into and out of Earth's systems result in changes in climate.
HS-ESS3-1. Construct an explanation based on evidence for how the availability of natural resources, occurrence of natural hazards, and changes in climate have influenced human activity.
Dimension
Name and NGSS code/citation
Specific Connections to Classroom Activity
Science and Engineering Practices
Developing and Using Models

Use a model to provide mechanistic accounts of phenomena. (HS-ESS2-4)

Constructing Explanations and Designing Solutions

Construct an explanation based on valid and reliable evidence obtained from a variety of sources (including students' own investigations, models, theories, simulations, peer review) and the assumption that theories and laws that describe the natural world operate today as they did in the past and will continue to do so in the future. (HS-ESS3-1)

 
Students use an online simulation to model energy flow into and out of the atmosphere.


Students explain the effects of increasing CO

2

concentration and propose solutions to help mitigate climate change.
Disciplinary Core Ideas
ESS2.D: Weather and Climate

Changes in the atmosphere due to human activity have increased carbon dioxide concentrations and thus affect climate. (HS-ESS2-4)

ESS3.A: Natural Resources

Resource availability has guided the development of human society. (HS-ESS3-1)

ESS2.A: Earth Materials and Systems

The geological record shows that changes to global and regional climate can be caused by interactions among changes in the sun's energy output or Earth's orbit, tectonic events, ocean circulation, volcanic activity, glaciers, vegetation, and human activities. (HS-ESS2-4)

 
Student groups discuss and analyze the Keeling Curve and its relationship to climate change.



Students complete a research paper and presentation about the effects of industrialization in developing areas on global climate.

Student groups compare recent weather patterns to long-term ice core records.
Crosscutting Concept(s)
Cause and Effect

Empirical evidence is required to differentiate between cause and correlation and make claims about specific causes and effects. (HS-ESS2-4), (HS-ESS3-1)

Students participate in a Model United Nations type forum debating the causes and effects of climate change, and recommend personal, local, and international solutions.
Connections to Nature of Science (when appropriate):

Science arguments are strengthened by multiple lines of evidence supporting a single explanation. (HS-ESS2-4)  

A post-activity discussion allows students to explicitly reflect on the nature of science, especially that strong science arguments must be supported by multiple lines of evidence.
Common Core State Standards Connections (when appropriate):

ELA/Literacy

SL.11-12.5 Make strategic use of digital media (e.g., textual, graphical, audio, visual, and interactive elements) in presentations to enhance understanding of findings, reasoning, and evidence and to add interest. HS-ESS2-4)

RST.11-12.1 Cite specific textual evidence to support analysis of science and technical texts, attending to important distinctions the author makes and to any gaps or inconsistencies in the account. (HS-ESS3-1)

Mathematics

MP.2 Reason abstractly and quantitatively. (HS-ESS3-1)

MP.4 Model with mathematics. (HS-ESS2-4)  
In both their research presentations and the Model UN forum, students communicate using digital media, support their analysis with evidence and appropriate citations, and use mathematical reasoning and models.
Supplemental files
In addition to your main manuscript, it is highly recommended that you upload the following as separate files (do not imbed in your manuscript).
Photos of students involved in the work you are describing. Be sure they are participating in a safe manner and have appropriate safety attire. Include photos of student work, examples of apparatus used, the activity in progress, or images to be used in instruction. Photos of students should be candid; they should be engaged in the activity, not posing for the camera. If photos of students are used, a signed model release form is required for each identifiable student. This can be provided after manuscript acceptance, but it's preferable to have these forms completed at the time of manuscript submission. Photos should be high resolution (a minimum of 300 dpi), so please check your camera settings before taking any pictures.
Support materials you use to organize your lesson and those that provide support to students such as tables, charts, graphs, record sheets, assessments, rubrics, etc. These may be used in the article if space permits, or we may provide a link to them so that readers can download them from our NSTA Connections webpage. These materials will be seen and evaluated by the reviewers.
Trade books containing scientifically accurate, grade level appropriate core content that supports the disciplinary core ideas presented in your manuscript. These can be referred to in the main body of the text and included in a References or Resources section at the end of the manuscript.
Digital resources, which can be posted on our NSTA Connections webpage or embedded in the digital edition of the journal. We are interested in audio and video files, slideshows, presentations, and other digital resources that enhance your article. You can also provide links to other online resources, such as YouTube videos and educational websites.
Authors are responsible for permissions for the use of any graphics or photos and for the accuracy of permissions, citations, quotations, figures, and facts used in their manuscripts.
Letters to the Editor
We welcome letters to the Editor. Letters should be submitted in a timely manner and focus directly on a matter addressed in The Science Teacher. Statements should be validated by reference to research. Limit letters to 300 words. All letters are subject to editing for clarity and space. Writers whose letters are chosen for print will be notified. Letters should include writer's name, institutional affiliation, address, and e-mail. Authors of articles addressed in the letter will be given a chance to respond to the comments in the letter to the editor. Letters to the Editor should not be submitted through Manuscript Central. Instead, they should be e-mailed to TST@nsta.org.
You might want to share the section "What our reviewers look for" (see below) with your colleague. This might help them provide you with valuable input.
What our reviewers look for
An initial review is completed by the Field Editor. This review is for compliance with the guidelines for submission identified above. The Field Editor may reject your manuscript or return it to you for revision. If it is returned, you may have the opportunity to make revisions and submit it under the same identification number it was initially given. Once the manuscript is known to fulfill the basic requirements, it will be assigned to a team of three reviewers whose background and expertise match the content of your manuscript. Reviewers are asked to provide feedback on the following questions:
---
Review Form
Your anonymous comments will be used to help the author revise the manuscript.
Is the manuscript accurate, scientifically and otherwise? Explain any inaccuracies.
Is the activity/content grade-level appropriate and is it clear to the reader that the activity/strategy has actually been used in the classroom?
Are classroom management tips for grouping, time, equipment, etc., included in the manuscript?
Does the manuscript target and clearly outline a particular combination of disciplinary core ideas, science and engineering practices, and cross cutting concepts as identified in the Next Generation Science Standards (NGSS)? Are correct codes for the associated standard and/or performance expectation from the NGSS provided?
Does the manuscript explicitly link to any grade level Common Core Standards for English Language Arts and/or Mathematics listed in the Connection Box of the NGSS? If so, is the alignment grade-level appropriate?
Is the activity safe at the recommended grade level? Are appropriate safety procedures included? List any missing safety considerations that you feel are necessary for this activity.
Is the manuscript thorough? Are the activities, procedures, examples, and other components complete? Do the student directions, questions, and other tasks require higher-order thinking skills that focus on deeper understanding and application of content?
Is the manuscript easy to read and logically sequenced; does it flow well from start to finish?
Is the activity interesting and new? Is it similar to another activity from a print or online source? Does the manuscript promote a person or commercial product/service?
Is the manuscript inclusive with regard to gender, multicultural awareness, and costs? Are differentiation strategies for students with special needs provided?
Does the manuscript contain appropriate current research citations, personal experiences, or other evidence to support the strategies it recommends and the claims it makes?
Does the manuscript contain effective formative and summative assessments? Are the assessments accessible and unbiased; do they use grade-level appropriate language? Are rubrics, answer keys, and scoring guidelines provided? Do they offer sufficient guidance for interpreting student performance?
Overall recommendation for this manuscript:
Recommendation (check one)
 
Accept
   
Send for minor revision
 
Send for major revision
 
Reject with encouragement to rewrite/resubmit
 
Reject

 

 
Overall Rating:
Good (high potential)
 
Fair (medium potential)
 
Poor (low potential)
 
Comments to the editor that you do not wish to be shared with the author:
Summary comments for the author including anything that does not fit any section above:
---
After the reviews have been received and considered, a decision will be made about your manuscript. The Field Editor has the following choices: Accept, Send for Minor Revisions, Send for Major Revisions, Reject with Encouragement to Resubmit, or Reject. You will have the option of revising your manuscript if it is not rejected. Once we are in receipt of your revision, it will go through another review. Reviewers will look for your responses to their suggestions and consider if it has been revised to meet the profile and standards of TST. Please note that the review/revision process may go on for a few rounds.
Upon acceptance
The process is not over when your manuscript is accepted. You will be asked to clarify and provide additional information as the manuscript is reviewed by our editorial team. You will also be asked to update your material; identify the people and institutions you had left out during the blind review; complete your biography; provide model releases, credits, and captions for photos if you have not done so; and submit other support material you may want to include.
Even if your manuscript was for an issue on a particular theme and then accepted, it may not appear in that issue of The Science Teacher. Space is limited, and the field editor may choose to save your article for a future issue in order to balance the grade level and subject matter of the content presented in the current issue. Articles are typically published within two years of acceptance.
Questions?
If you have any questions about the submission process, please contact the journal by phone or email.
The Science Teacher
Peter Lindeman, Managing Editor
1840 Wilson Blvd.
Arlington, VA 22201-3000
Phone: 703.312.9239