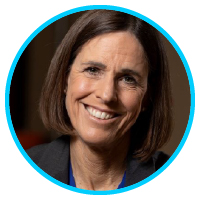 Dr. Julie A. Luft
University of Georgia
Distinguished Research Professor & Athletic Association Professor of Science and Mathematics Education
Dr. Julie A. Luft is the president of the National Science Teaching Association (NSTA). She began serving her one-year term on June 1, 2023. She is currently a Distinguished Research Professor and Athletic Association Professor of Mathematics and Science Education in the Mary Frances Early College of Education at the University of Georgia in Athens, Georgia. She joined the University of Georgia faculty in 2012. 
Luft comes from a family of educators. Her father was a science and mathematics teacher, and later ran a cooperative agency that provided services and materials to schools throughout Arizona and New Mexico. Her mother was a special education teacher with expertise in science. She has family members who are currently science teachers. 
She taught middle school and high school in the West. As a teacher, her desire to know more about effective science instruction led to her pursuing a doctoral degree at the University of Iowa. As a graduate student, she learned about educational reform, inquiry instruction, and constructivism, which transformed how she viewed the learning and teaching of science. 
As a faculty member, Luft teaches both undergraduate and graduate courses, and mentors doctoral students. The undergraduate courses are for preservice teachers and consist of science methods, biology for middle school, and the supervision of student teachers. The graduate courses she teaches are for masters and doctoral students who are progressing professionally. Her favorite courses to teach focus on science teacher education research and the professional learning of science teachers. She has received several university and national awards for her instruction and mentoring of students.
Over time, her research has progressed from investigating the design of novel professional learning environments to understanding how early career science teachers strengthen their teaching knowledge and instructional practices. Recently she explored how out-of-field teaching constrains the knowledge and practice of science teachers. With National Science Foundation (NSF) funding, she is now studying early career science teacher resilience and persistence, and the role of science leaders in supporting newly hired science teachers. Central to her work are science teachers, and the connection of practice and research. 
As an active scholar, Luft has published more than 150 research articles, book chapters, editorials, and books for teachers, teacher educators, and educational researchers. She has given more than 200 peer-reviewed national and international conference talks. Much of this work is the result of external funding from the NSF. Her recent research highlights include co-editing the Handbook of Research on Science Teacher Education (2022) and giving a plenary at the European Science Education Research Association in 2022. Her publications have been honored with a number of awards, including the National Association for Research in Science Teaching (NARST) JRST award, which recognized an article she co-wrote for the Journal of Research in Science Teaching (JRST) that was deemed the most significant publication of the year; the Association for Science Teacher Education (ASTE) Award for Implications of Research for Educational Practice; NSTA Research Worth Reading recommendations; and the Association of Educational Publishers educational practice award. 
As an engaged member of the science education community, Luft has served as a board member and President of ASTE, Director of Research and a scholar in residence at NSTA, as NSTA's representative to the NARST board, and associate editor for various journals, including JRST. In her work as an advocate for graduate students and early career faculty, she has served as a mentor in the Sandra K. Abell Institute for Doctoral Students; the South African Science, Mathematics, and Technology Education Research School; and the Science Education Research Institute in Thailand. Highlights of her work in the science education community include being a mentor at science education research schools and serving on the committee on the National Academies of Sciences, Engineering, and Medicine consensus report Science Teachers' Learning: Enhancing Opportunities, Creating Supportive Contexts (2015).
Luft held previous appointments at Arizona State University in Tempe, Arizona; at The University of Texas at Austin, Texas; and at the University of Arizona in Tucson, Arizona. She became an American Association for the Advancement of Science Fellow in 2010, an NSTA Fellow in 2017, an Owens Institute for Behavioral Research Distinguished Scholar in 2020, and an American Educational Research Association Fellow in 2023. She was a Fulbright Research Specialist to Vietnam in 2017. 
Outside of work, her favorite time of the day is the early morning, when she enjoys a good cup of coffee and the sunrise. This is often followed by a run around a park, on a trail, or in town. When the workday ends, she enjoys walking her dogs and cooking meals with family and friends.