Marketplace Partners: Workshops & Sponsorship


Virtual Conference
April 12 - May 8
Partner packages are still available yet please note, we will not be able to provide the Workshop at this late date. You will still receive all the other benefits of the package you select.
Please contact exhibits@nsta.org with any questions.
It's All About Engagement, Education & Thought Leadership
Host a live workshop where the star of the show is education and thought leadership.
Build an engaging Partner Resource page where attendees can explore materials and resources.
Build your Brand Awareness by sponsoring a Keynote Speaker, Speed Sharing Chat, Hot Topic Sponsored Panel, or Attendee Scholarships. Want something else, inquire about custom sponsorships.
Create new business opportunities by connecting with attendees.
Showcase new, innovative products and services for science educators.
Explore the future of science education by listening, sharing and learning from attendees and other industry leaders.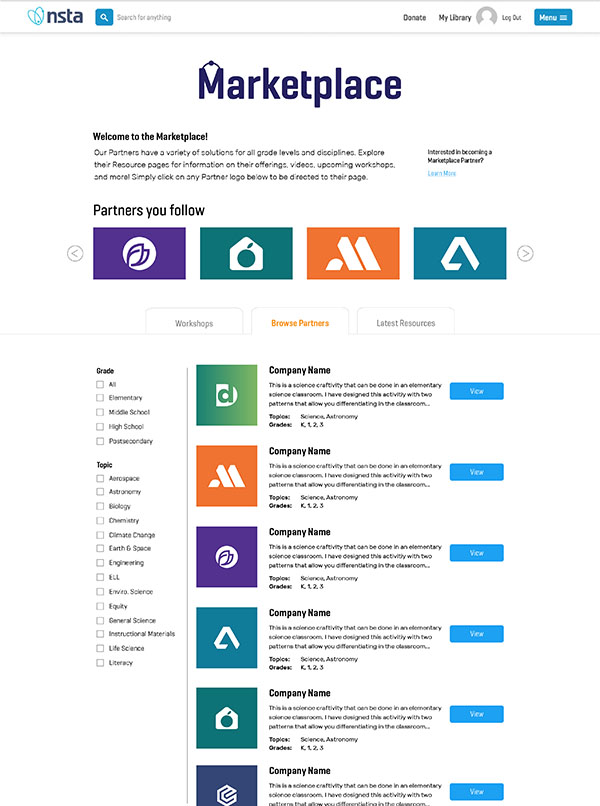 Your Partner Resource page includes:
Company logo (400x125)
Contact Information
Social Media links
Company Description
Sales Contact Information

Product categories, grade levels served
Workshop Schedule
Video and Resource links
Real time lead capture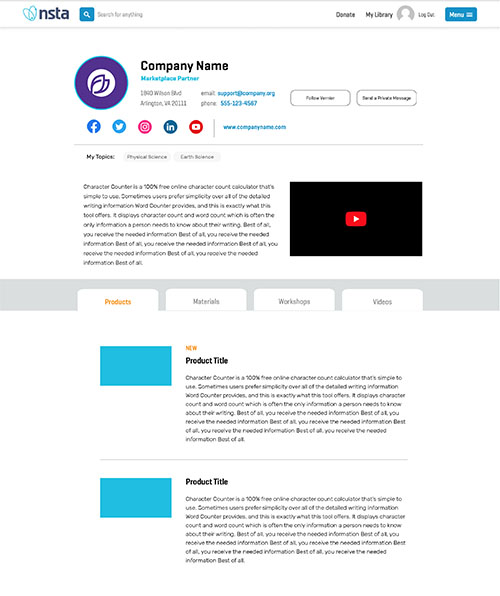 Connect with Science Educators at NSTA Engage: Spring21
Each week will focus on a different grade brand to maximize participation from all levels of science teaching and disciplines.
April 12–17

Elementary

April 19–24

Middle Level

April 26–May 1

High School

May 3–8

*Postsecondary and
Informal Education
*During this week, one day will be exclusively dedicated to programming for preservice educators
Program Schedule:
Monday

4:00-7:00 pm
Keynote Speaker

Tuesday

5:30-7:30 pm
Academic Programming

Wednesday

11:00 am – 2:45 pm
Marketplace Partner Workshops

4:00-7:00 pm
Academic Programming

Thursday

11:00 am – 2:45 pm
Marketplace Partner Workshops

4:00 -7:00 pm
Academic Programming
Friday

11:00 – 11:45 am
Marketplace Partner Keynote

12:00 – 3:45 pm
Marketplace Partner Workshops

4:00 – 4:45 pm
Marketplace Partner Keynote

Saturday

4:00 – 7:15 pm
Academic Programming
Marketplace Partner Workshop Schedule
Each workshop is 45 minutes. Your presentation should be 30-35 minutes long to allow for a 10-15 Q&A Session.
You can submit your workshop proposal here.
Wednesday

11:00-11:45

12:00-12:45

1:00-1:45

2:00-2:45

Thursday

11:00-11:45

12:00-12:45

1:00-1:45

2:00-2:45

Friday

12:00-12:45

1:00-1:45

2:00-2:45

3:00-3:45
Boost Your Engagement
Marketplace Partner Workshop - $850
45-minute Workshop scheduled on the official event program. 
Email Blast - $995
E-mail Blast sent to Registered Attendees who have not opted out of receiving exhibitor partner emails. Exhibitor is responsible for providing copy/images to NSTA who will create the email based on our template.
Banner Advertisement
 

- $750

970x250 Banner ad posted on event main pages, rotated with other advertisers
Sponsored Social Media Post - $250
Dedicated Social Media Post during the event highlighting your Partner Resource page/activities
Jeffrey LeGrand-Douglass

jldouglass@nsta.org

Jason Sheldrake

jsheldrake@nsta.org

Kim Hotz

khotz@nsta.org