Science Resources for Parents
Check out these great science activities for K-12 students and their families and resources for teaching science
Support your child's science learning at home
Empower young inventors, scientists, and leaders through student competitions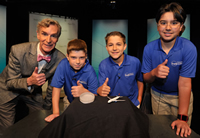 Toshiba/NSTA ExploraVision Competition (grades K–12)
U.S. Army's eCYBERMISSION Program (grades 6–9)
NSTA Angela Award for one female student (grades 5–8)
Get ready for your school science fair with Science Fair Warm-Up: Learning the Practices of Scientists. There are four different editions geared for grades 5–8, 7–10, and 8–12, as well as a teacher edition.
Encourage children to curl up with a good science book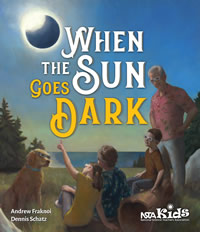 NSTAKids: NSTA's new line of lively children's picture books that also impart sound science.
eBooks+ Kids, interactive e-books, specially designed with K–5 students in mind.
Outstanding Science Trade Books for Students K–12: selected by NSTA in conjunction with the Children's Book Council.
Prepare your child for the next generation of science learning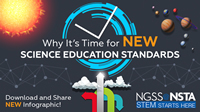 NSTA's parent Q&A will help you explore the importance of standards and the role they play in education.
Find out what your child will be exploring in science with these parent guides from Achieve (get individual guides for grades K–2, 3–5, 6–8, and 9–12).
Download and share our infographics on Why It's Time for NEW Science Education Standards and How Today's Students Learn Science.
Learn more about the Next Generation Science Standards in NSTA's position statement on NGSS.