NSTA Executive Director and CEO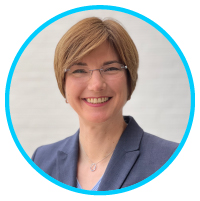 Dr. Erika Shugart
Dr. Erika Shugart is the Executive Director and CEO of the National Science Teaching Association (NSTA), the world's largest professional organization representing science educators of all grade levels.
Before joining the association staff in March 2021, Shugart served as the Chief Executive Officer and Executive Director of the American Society for Cell Biology (ASCB), a Maryland-based professional society for more than 7,000 cell biologists worldwide. During her time there, she partnered with the board to achieve the Society's mission through its strategic goals focused on the centrality of cell biology, the promotion of inclusiveness and transparency, leadership in science outreach, career development and enhancement, and financial stability.
Prior to joining ASCB in 2016, Shugart served as the Director of Communications and Marketing Strategy at the American Society for Microbiology, where she led the team that managed media relations, digital communications, marketing, and public outreach. During that time, she also ran her own consulting company, Erika Shugart Consulting LLC, which advised clients such as the Franklin Institute and Academy Health on increasing audience engagement.
Between 2003 and 2013, Shugart oversaw the development of new digital media exhibitions, online experiences, and programs as Deputy Director of the Marian Koshland Science Museum of the National Academy of Sciences. In this role, she managed the creation of several major exhibitions, including Life Lab; Earth Lab: Degrees of Change; Infectious Disease: Evolving Challenges to Human Health; Putting DNA to Work; and a virtual exhibition on Safe Drinking Water. Shugart also conceptualized and managed the museum's online presence, including its award-winning website.
Early in her career Shugart directed the National Academy of Sciences' Office on Public Understanding of Science, managing several projects including the article series Beyond Discovery. Shugart also worked at the Office of Policy Analysis at the National Institute of Allergy and Infectious Disease, National Institutes of Health (NIH).
Shugart's devotion to the science and education community is also evidenced by her involvement in numerous other professional organizations. She is a member of the American Association for the Advancement of Science (AAAS), the Council of Engineering and Scientific Society Executives (CESSE), and the American Society for Association Executives. Shugart has also participated in a number of committees for the American Geophysical Union, the Societies Consortium on Sexual Harassment in STEMM, and the Institute for Museum and Library Services, to name just a few.
Shugart has been recognized as a leader in the fields of informal science education and science communication. In 2010, she was elected an AAAS Fellow for distinguished contributions and leadership in public understanding and engagement in science. Shugart was a Noyce Leadership Fellow from 2012 to 2013. In 2007, the National Academy of Sciences honored her with an Individual Distinguished Service Award, and she shared Group Distinguished Service Awards in 2004 and 2011.
Shugart has also published extensively for the science communities. She has authored scientific publications, contributed to dozens of scholarly journals, and presented at numerous conferences. Shugart holds a Ph.D. in biology from the University of Virginia and a bachelor's degree in biology from the College of William and Mary.