National Congress on Science Education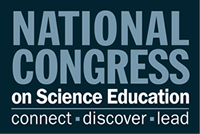 The National Congress on Science Education meets annually and consists of one voting delegate from each of the 94 NSTA Chapters and Associated Groups. The Congress meets to discuss issues and bring forth recommendations that may be of interest to NSTA and the science education community. Delegates and other local leaders benefit from attending the summer congress, which provides opportunities to
Network with other science leaders from the US and Canada;
Attend leadership workshops to assist them in their association role;
Represent their members as a voting delegate;
Attend focus groups to address national issues and formulate, debate, and adopt resolutions;
Collaborate with the NSTA elected leaders and staff.
Documents from Past Congress Meetings
 
---
Save The Date!
2024 National Congress on Science Education
Monday, July 8 - Wednesday, July 10, 2024

NCSE Registration and Declaring Delegates/Alternates
Registration for the 2024 NCSE Meeting will open in spring.
Declaring delegates and alternates will also be a part of the registration process. All delegates and alternates must be declared by June 29, 2024 (10 days prior to the start of the meeting, per the NCSE Operating Policy).
2024 National Congress on Science Education Planning Committee
Alicia Conerly, NSTA President-Elect and NCSE Chairperson
Kenric Davies, Science Teachers Association of Texas
Bianca Deliberto, Louisiana Science Teachers Association
Beverly DeVore-Wedding, Colorado Association of Science Teachers        
Marjorie Miles-Dozier, Florida Association of Science Teachers
Linda Smith, Association of Presidential Awardees in Science Teaching 
Angela Osuji, District IX Director
Johanna Brown, District XVII Director