Nominations for the NSTA Board of Directors and Council
Call for Entries 2022 NSTA Elections
The annual NSTA Nominations for Board of Directors and Council engages science educators in leadership positions. The NSTA Board of Directors and Council work together to promote excellence and innovation in science teaching and learning for all. We are now accepting applications for the 2021-2022 Election year. These positions will take office of June 1, 2022.
Deadline: October 29, 2021
Eligible Offices for the 2022 Election
Board of Directors (Division Directors)
President
High School Level Science Teaching
Post-Secondary Science Teaching
Coordination and Supervision
Council (District Directors)
District III – Delaware, District of Columbia and Maryland
District V – Alabama, Florida, Georgia, Puerto Rico and Virgin Islands
District IX – Minnesota, North Dakota and South Dakota
District XI – Kansas, Missouri and Nebraska
District XV – Idaho, Montana and Wyoming
District XVII – Alaska, Oregon and Washington
To be eligible for consideration, you must be a current member of NSTA, and meet the requirements of the position being sought.
Election Guidelines below
December 15
Ballots sent to NSTA membership.
Dec. 15 - Jan. 26
Open voting. Nomination and Election Guidelines prohibit campaigning for all elections. The publication of each candidate's biographical data and position statement shall be the total extent to which Association members are informed about candidates for office.
For More Information
Please contact the NSTA Nominations' Program Liaison at 703.312.9254 or via email at nominations@nsta.org.
Newly-Elected Board and Council
These individuals will take office on June 1, 2021.
BOARD OF DIRECTORS

COUNCIL

President-Elect

Preschool/Elementary Division Director

Middle Level Division Director

Informal Science Division Director

Professional Learning Division Director

District II - ME, NH, VT

District IV - NJ, NY, PA

District VIII - KY, VA, WV

District X - IN, MI, OH

District XIV - AZ, CO, UT

District XVI - Am. Samoa, CA, Guam, HI, NV
NSTA's Governance Structure
The Board is comprised of the three (3) NSTA Presidents and the ten (10) Division Directors. The Council is comprised of the NSTA President and eighteen (18) District Directors.
Board of Director Offices to be filled in the 2021 election are:
President—Term of office: 3-year commitment beginning June 2021 through May 2024 (Year 1 as President-elect; Year 2 as President; Year 3 as Retiring President)
Division Directors—Term of office: 3-year commitment beginning June 2021 through May 2024

Preschool-Elementary Science Teaching
Middle Level Science Teaching
Informal Science
Professional Learning in Science Education
Council Offices to be filled in the 2021 election are:
District Directors—Term of office: 3-year commitment beginning June 2021 through May 2024

District II: Maine, New Hampshire, Vermont
District IV: New Jersey, New York, Pennsylvania
District VIII: Kentucky, Virginia, West Virginia
District X: Indiana, Michigan, Ohio
District XIV: Arizona, Colorado, Utah
District XVI: American Samoa, California, Guam, Hawaii, Nevada
NSTA's Eighteen Districts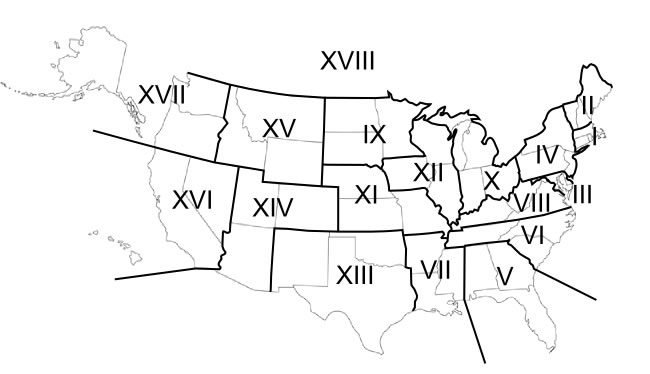 District I: Connecticut, Massachusetts, Rhode Island
District II: Maine, New Hampshire, Vermont
District III: Delaware, District of Columbia, Maryland
District IV: New Jersey, New York, Pennsylvania
District V: Alabama, Florida, Georgia, Puerto Rico, Virgin Islands
District VI: North Carolina, South Carolina, Tennessee
District VII: Arkansas, Louisiana, Mississippi
District VIII: Kentucky, Virginia, West Virginia
District IX: Minnesota, North Dakota, South Dakota
District X: Indiana, Michigan, Ohio
District XI: Kansas, Missouri, Nebraska
District XII: Illinois, Iowa, Wisconsin
District XIII: New Mexico, Oklahoma, Texas
District XIV: Arizona, Colorado, Utah
District XV: Idaho, Montana, Wyoming
District XVI: American Samoa, California, Guam, Hawaii, Nevada
District XVII: Alaska, Oregon, Washington
District XVIII: Canada