Shell Science Lab Challenge

A Program of NSTA
#EnergizeyourfuturewithShell
The Shell Science Lab Challenge has ended. To learn about the Shell Science Lab Regional Challenge, click here.

The annual Shell Science Lab Challenge Competition recognized outstanding middle and high school programs for their exemplary approaches to science lab instruction utilizing limited school and laboratory resources. The Challenge showcased the work of teachers, representing their schools, who submitted innovative, replicable strategies to deliver quality lab experiences with limited equipment/resources, and awarded teachers/schools with additional tools, resources, and rich professional development opportunities needed to support high-quality science teaching and strengthen their existing capabilities.
2020 Science Lab Challenge District Winners and National Winners
*National Finalist
**Grand Prize Winner
District I: Connecticut, Massachusetts, Rhode Island
Genelle Faulkner
Helen Y. Davis Leadership Academy
Dorchester, MA
District II: Maine, New Hampshire, Vermont
Tracy Vassiliev
James F Doughty School
Bangor, ME
District III: Delaware, District of Columbia, Maryland
Michele Barrie
Aberdeen Middle School
Aberdeen, MD
District IV: New Jersey, New York, Pennsylvania
Paul Servidio
Matawan-Aberdeen Regional High School
Aberdeen, NJ
District V: Alabama, Florida, Georgia, Puerto Rico, Virgin Islands
**Amber Taylor
Hutto Middle School
Bainbridge, GA
District VI: North Carolina, South Carolina, Tennessee
Nikki Wallace
Crosstown High School
Memphis, TN
District VII: Arkansas, Louisiana, Mississippi
Karen Marshall
International School of Louisiana
New Orleans, LA
District VIII: Kentucky, Virginia, West Virginia
*Amanda Flanagan
John Rolfe Middle School
Henrico, VA
District IX: Minnesota, North Dakota, South Dakota
Julie Olson
Second Chance High School/Mitchell Senior High School
Mitchell, SD
District X: Indiana, Michigan, Ohio
Vicki Quinter
Anna High School
Anna, OH
District XI: Kansas, Missouri, Nebraska
Zeta Greene
Sandhills High School
Dunning, NE
District XII: Illinois, Iowa, Wisconsin
Yvonne Butterfield
Mauston High School
Mauston, WI
District XIII: New Mexico, Oklahoma, Texas
*Jessica Thomas
Pecos High School
Pecos, TX
District XIV: Arizona, Colorado, Utah
*Anna Newley
Sonoran Science Academy
Phoenix, AZ
District XV: Idaho, Montana, Wyoming
Brianna James
Belgrade High School
Belgrade, MT
District XVI: American Samoa, California, Guam, Hawaii, Nevada
*Phong Nguyen
Oakland Unity High School
Oakland, CA
District XVII: Alaska, Oregon, Washington
Kelly Evans
Elk Plain School of Choice K-8
Spanway, WA
District XVIII: Canada
Kevin Robertson
Queen Elizabeth High School
Edmonton, Alberta Canada
2017 District winner Anna Saccoccio writes: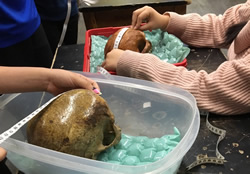 Through the Shell Lab Challenge Award, Nathanael Greene Middle School has, so far, been able to provide students with the opportunity work as anthropologists to examine and measure replicas of hominid skulls. As part of the seventh grade curriculum, students compare and contrast the skulls to see change in hominid skulls over time. We have also been able to help students organize their work by providing them with colored folders. These are color-coded by class so students can easily find their work and stay organized (a problem for many middle school students). The award form the Shell Lab Challenge has allowed us to purchase materials we would not otherwise have been able to purchase. Our teachers thank you for your support!