NSTA Engage: Spring21
Virtual Conference • April 12 – May 8
Encourage. ENGAGE. Empower.
Renew your passion for education with the support of a dedicated community!
Experience NSTA's premier event of the year with Engage: Spring21. The conference will feature inspiring keynote presentations, motivating sessions, unconferences, Marketplace Partner workshops, thought leadership, and so much more. Participate in rich, real-time dialogue with like-minded educators from around the country, listen to expert speakers on your own schedule, and drop in on lively social networking events at Engage: Spring21. All sessions will be available in the on-demand library for 90 days following the event.
Need help justifying your attendance at NSTA Engage: Spring21?
Check back regularly as new sessions are added daily!
---
Customize your conference experience!
See a session that you are interested in attending? Click on the "add to my agenda" button and begin building your conference schedule.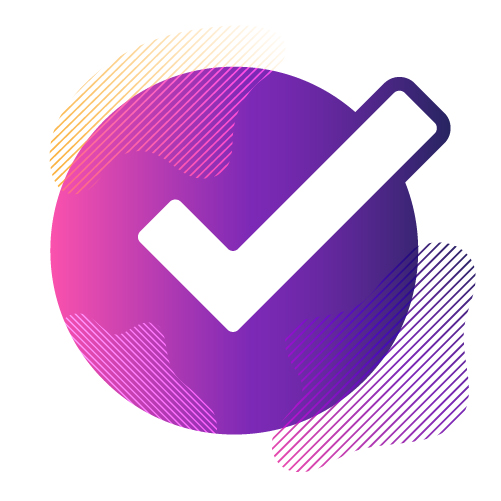 Weekly programming will be scheduled for approximately three to four hours each day, between 4:00 and 8:00 PM Eastern Time, excluding Sunday. Each week will kick off with a keynote speaker and focus on a different grade band:
April 12–17

Elementary

April 19–24

Middle Level

April 26–May 1

High School

May 3–8

*Postsecondary, Preservice,
and General Science
*During this week, one day will be exclusively dedicated to programming for preservice educators.
However, additional preservice offerings will be scheduled throughout all four weeks.
Conference Strands
Organized around the following strands that explore topics of current significance, Engage: Spring21 features a stellar lineup of captivating sessions, inspiring presentations, and exciting workshops—providing YOU with the very best professional learning experience around! Click the links below for a complete list of these sessions.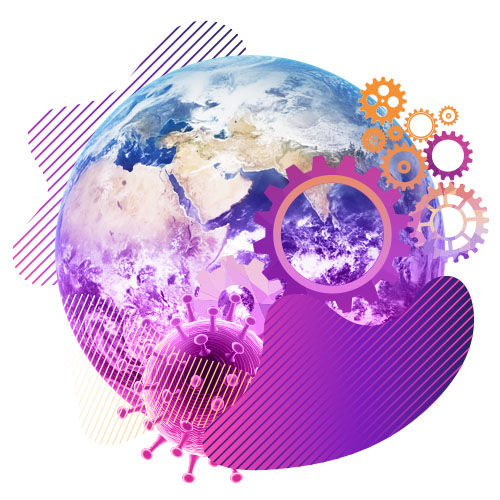 Watch At Your Own Pace
Watch at Your Own Pace
| | | |
| --- | --- | --- |
| Watch sessions live and participate in interactive content | Check out prerecorded sessions at your own pace during the event in the on-demand library | All sessions will be available in the on-demand library for 90 days following the event |
Get inspired by new ideas and engage with thought leaders who share your passion!
This year's conference keynotes and featured speakers are a diverse group of renowned science and education leaders from across the country.
U.S. Secretary of Education Dr. Miguel A. Cardona Answers Your Questions
Thursday, April 15, 4:00–4:15 PM EDT
Don't miss your opportunity to hear from U.S. Secretary of Education Dr. Miguel A. Cardona as he shares a special message and answers questions from science teachers. Do you have a question you'd like to ask Secretary Cardona? Submit your question here.
Dr. Miguel A. Cardona
U.S. Secretary of Education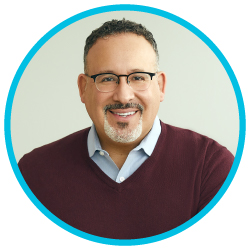 Keynote Speakers
Equity-ology
Monday, April 12, 6:00–7:00 PM EDT
Award-winning STEM educator Justin "Mr. Fascinate" Shaifer shares his story of overcoming hurdles to success in science, while providing practical tools and activities to engage diverse students with science curricula.
Justin J. Shaifer
Executive Director, Fascinate, Inc., and PhD Student, Columbia University, New York, NY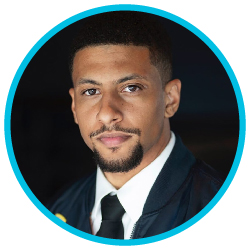 Education Through Minecraft
Thursday, April 15, 7:20–8:05 PM EDT
Bestselling author Max Brooks believes in the power of educating through entertainment, whether it's learning survival skills through zombie fiction or better understanding our own history through graphic novels. What better way to reach students than through mediums they have fun using, such as video games? Join Max as he explains why he thinks the massively popular game Minecraft has the potential to be the greatest teaching tool since Gutenberg's printing press.
Max Brooks
Author, Venice, CA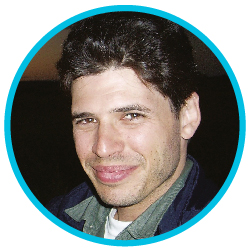 Engaging Students by Integrating Culturally Relevant Instruction
Saturday, April 17, 6:30–7:15 PM EDT
Alejandro understands that students arrive each day with an abundance of cultural wealth. He will share how establishing authentic relationships with his students and strategically integrating culturally relevant instruction has increased student motivation, morale, and engagement in his class. He will also provide insight to some of the challenges that our students from underrepresented populations face, and how providing his students access to a variety of people, programs, resources, and experiential learning opportunities has been critical to his students' success.
Alejandro Diasgranados
2021 D.C. Teacher of the Year, and Fourth- and Fifth-Grade Teacher, Aiton Elementary School, Washington, DC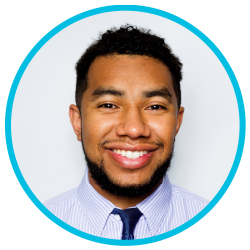 Environmental and Climate Justice Education—From Grass Roots to the Classroom
Monday, April 19, 6:00–7:00 PM EDT
In this session participants will get an overview of how environmental and climate justice have been introduced to classrooms through partnerships, expos, and educational programming. Participants will also get an overview of key terms, focus areas, and resources for learning more about environmental and climate justice through a local lens.
Taylor Morton
Director of Environmental Health and Education, WE ACT for Environmental Justice, New York, NY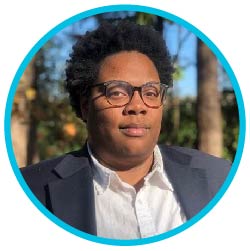 You Would Be a Great Teacher!
Saturday, April 24, 6:30–7:15 PM EDT
If a student in your class is amazing at math, then what job do you tell them they'd be good at? Engineering, maybe? What if they have a natural aptitude for science, or they're well-spoken and love to debate? The best answer for these questions, and every other issue we face in education, is simple: You would be a great teacher!
John Arthur
2021 Utah Teacher of the Year, and Sixth-Grade Teacher, Meadowlark Elementary School, Salt Lake City, UT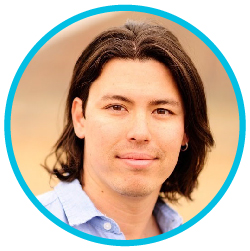 Lessons from CDC Studies of COVID-19 in Schools and Implications for Science Education
Monday, April 26, 6:00–7:00 PM EDT
School-based studies of COVID-19 have provided valuable information about how the virus spreads and the activities and settings most associated with SARS-CoV-2 infection. Although some risks can be ameliorated with policy or environment change, behavior plays a large role in risk of infection. Science teachers are well positioned to address behavioral contributions and can impact behavior change to mitigate the spread of COVID-19.
Lisa C. Barrios
Lead, School Fieldwork Unit; State, Tribal, Local, and Territorial Support Task Force; COVID-19 Emergency Response, Centers for Disease Control and Prevention, Atlanta, GA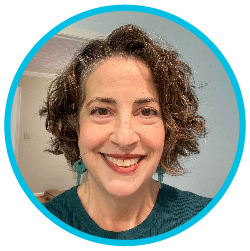 The Challenge of Creating Equity in Science Education
Thursday, April 29, 6:30–7:15 PM EDT
Science advocates discuss the challenges of creating equitable opportunities for teaching students in science education. We all know that it is a challenge, but through this dialogue, implications and considerations will be highlighted to provide participants ideas for overcoming and successfully educating underrepresented students.
Alicia Conerly
Principal, Monticello Elementary School, Monticello, MS; and Chair, NSTA Committee on Multicultural/ Equity in Science Education
Sharon Delesbore
Assistant Principal, Hightower High School, Missouri City, TX; and President, Association for Multicultural Science Education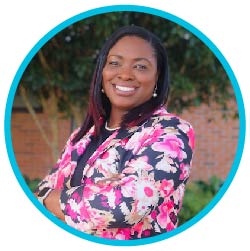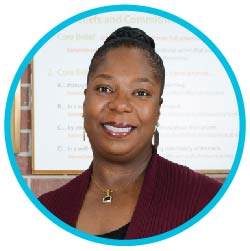 The Multiplier Mindset: Cultivating a Culture of Success
Saturday, May 1, 6:30–7:15 PM EDT
In this session, we will discuss how the best leaders are multipliers who make everyone around them smarter and promote their team's success using this strategy. The keynote will focus on how these strategies can be implemented in the PK–20 systems to cultivate a culture of success for our students and teachers.
Maureen Stover
2020 Burroughs Wellcome Fund North Carolina Teacher of the Year, Fayetteville, NC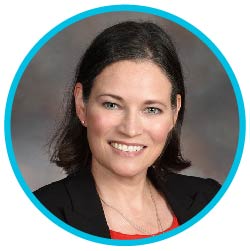 Assessing How We Test the NGSS
Monday, May 3, 6:00–7:00 PM EDT
This presentation will focus on the current state of science assessments around the country. Particular attention will be given to the challenges for reimagining science assessments for the Next Generation Science Standards. Strategies will be included for how to develop assessments that meet the needs of classroom teachers, can measure student content knowledge on statewide summative tests, and can scale at the levels required. Specific attention will be given to addressing how assessments can be more culturally responsive to a wider range of students.
Christopher C. Lazzaro
Director of Science Programs, New Meridian, Brooklyn, NY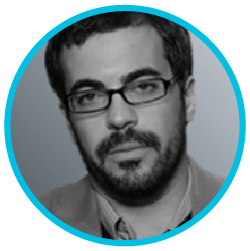 Teaching to Change the World: Using Social Justice Science Pedagogy to Empower Every Learner
Saturday, May 8, 6:30–7:15 PM EDT
When you think of social justice teaching, does science come to mind? Science involves the consistent and systematic analysis of the world we live in. However, when we think of Physics, Chemistry, and Biology we rarely examine how learning concepts in core disciplines can empower students to explain the social phenomena that frame their lives. This presentation explores what social justice science teaching looks like in science and how we can empower students to see the value of science when we center social science teaching in our practice.
Bryan A. Brown
Associate Professor of Science Education, Stanford University, Stanford, CA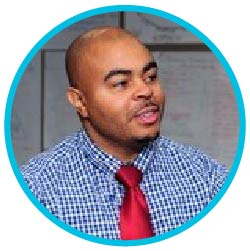 Featured Panel: Linking Literacy: A Discussion with Authors on the Use of Kidlit in the Classroom
Thursday, April 15, 6:30–7:15 PM EDT
Kidlit opens the world to students through information, illustrations, and interesting topics. This panel will feature award-winning children's authors whose stories create portals to exploring science.
Moderator:
J. Carrie Launius, Elementary Science Coordinator, Saint Louis, MO
Presider:
Christine Anne Royce, 2018–2019 NSTA President, and Professor, Shippensburg University, Shippensburg, PA
Panelists:
Laurie Wallmark, Author
Melissa Stewart, Children's Book Author
Jessica Fries-Gaither, NSTA Press Author, and Columbus School for Girls
Tracy Nelson Maurer, Author
Patricia Valdez, Scientist and Author
Keynote Panel: Psychosocial Skills and Achievement: A Two-Way Street
Thursday, April 22, 5:30–6:30 PM EDT
The objectives of this session are threefold: to assist teachers in identifying students who need additional social and emotional support; to highlight the dynamic between SEL and learning/achievement as bi-directional, since SEL instruction and skill building have been shown to improve achievement, but achievement or lack of it also impacts children's sense of well-being; and to highlight psychologically validated strategies designed to prevent distress as well as enhance performance in the science classroom. Teachers will learn about approaches they can use to help students manage performance fears and encourage strategic risk-taking that fosters creativity.
Joanne Broder
Media Psychologist, Moorestown, NJ
Amanda M. Dettmer
Associate Research Scientist, Yale Child Study Center in the Yale School of Medicine, New Haven, CT
Kimberly A. S. Howard
Associate Professor of Counseling Psychology and Applied Human Development, Boston University, Boston, MA
Rena F. Subotnik
Director of the Center for Psychology in Schools and Education, American Psychological Association, Washington, DC
Featured Panel: Linking Literacy: Using Kidlit to Generate Engagement and Questions
Saturday, April 24, 5:30–6:15 PM EDT
The use of children's literature in the middle level classroom provides opportunities for students to pursue interests, engage in topics, and generate questions. This panel will feature award-winning children's authors that focus their writing on creating these type of entry points for students.
Moderator:
Christine Anne Royce, 2018–2019 NSTA President, and Professor, Shippensburg University, Shippensburg, PA
Presider:
J. Carrie Launius, Elementary Science Coordinator, Saint Louis, MO
Panelists:
Elizabeth Rusch
Jennifer Swanson
Alexandra Siy
Teresa Robeson
Featured Panel: Network Around Preparing STEM Teachers for High-Need Schools: Join the ARISE Community
Thursday, May 6, 5:30–6:15 PM EDT
ARISE, an initiative of the American Association for the Advancement of Science, funded by the National Science Foundation, provides resources, tools, and a community to foster research and evidence-based innovation in STEM teacher education. We invite you to learn about ARISE (Advancing Research & Innovation in the STEM Education of Preservice Teachers in High-Need School Districts) and its resources and join our community—almost 10,000 strong!
Jennifer Carinci
Program Director, STEM Education, American Association for the Advancement of Science (AAAS), Washington, DC
Lauren Manier
Program Associate, STEM Education, American Association for the Advancement of Science (AAAS), Washington, DC
Betty Calinger
Senior Project Director, STEM Education, American Association for the Advancement of Science (AAAS), Washington, DC
Foster new and existing relationships by networking with peers, education industry leaders, and solution-providers.
Learn creative teaching techniques, discover news trends, and bring back innovative ideas to the classroom that promote imaginative learning and student engagement.

Get to know each other over a series of short three-minute "chats." At the end of each chat, move on to the next person and share more interesting facts or funny stories.
Speed-sharing chat topics may include:
Science experiments gone awry
Funniest teacher jokes
Funniest administrator jokes
"Worst day ever" experiences that you can now laugh at
Funniest teacher sayings
Funniest things you've heard students say
Weirdest experiment results
Best science experiments
If you could rename teachers, what would it be?
If you could rename science, what would it be?
Things you wish you would have known before becoming a science teacher
Weird things you've done in class
Weird things students have done in class
Most hilarious things you've seen or heard at school
Funniest tweets about teaching, teachers, or students you've ever seen.

Wednesday, April 14
4:00-4:45 PM EDT and 6:00-6:45 PM EDT
Saturday, April 17
4:30-5:15 PM EDT and 5:30-6:15 PM EDT
This year's Elementary Extavaganza is broken into four unique sessions and includes a rapid-fire series of presentations during each one. Each session will focus on specific topics that relate to the needs of preschool and elementary teachers. After an energy-filled series of six presentations, a question and answer session will be held with the presenters to provide time to discuss ideas. The presenters are leaders in elementary science education and award-winning teachers.
Presented by:
Members of the NAEYC Early Childhood Science Interest Forum
NSTA Committee on Preschool–Elementary Science Teaching
Science & Children Authors and Reviewers
Society of Elementary Presidential Awardees

4:00-5:15 PM EDT
Thursday, April 15
Thursday, April 22
Thursday, April 29
Thursday, May 6
Welcome to Thursday's Unconference Experience! So what IS an unconference and why would I want to participate?
Do you have a burning desire to discuss a topic or a special challenge with colleagues in an informal and participant-driven environment? Then join this opportunity to discuss one of the topic ideas and suggestions that have been identified by you and your colleagues. The most popular topics will be brought forth for today's discussion. During this time, participants will be invited to join a topic that is of particular interest and relevance to them.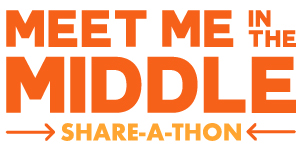 Wednesday, April 21, 4:00-4:45 PM EDT
Thursday, April 22, 6:45-7:30 PM EDT
Saturday, April 24 4:30-5:15 PM EDT
Discover a variety lessons, units, professional learning opportunities, and resources for hybrid or virtual instruction; learn ways to engage middle level students in exciting inquiry learning; and gather ideas on how to involve parents and/or the community in science during a variety of short, modified Pecha Kucha–style presentations. Presenters will be available for questions and further discussion following the presentations.
Sponsored by the National Middle Level Science Teachers Association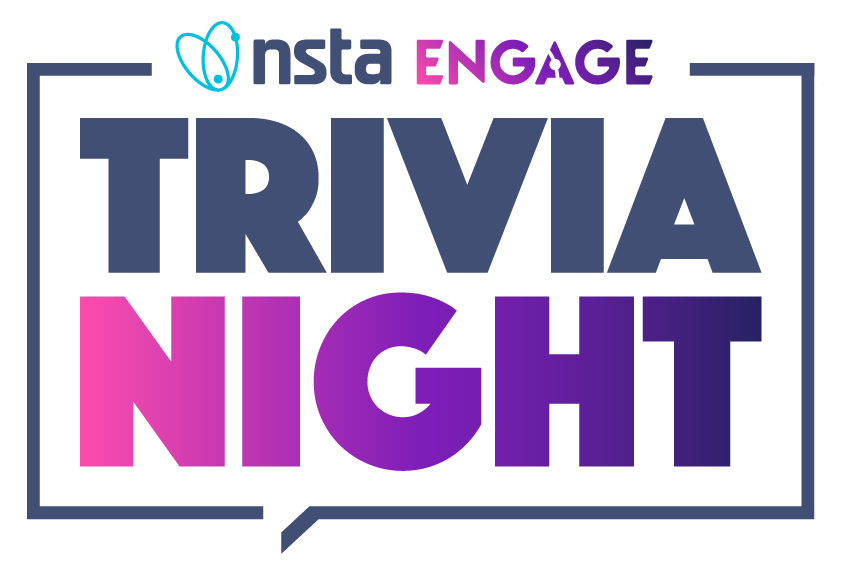 Thursday, April 22
7:30–8:30 PM EDT
Join us for an evening of trivia, fun, and stress-free networking! Hosted by NSTA's very own Matt Hartman, NSTA Engage Trivia Night will be held on Thursday, April 22, from 7:30 to 8:30 PM EDT. The event is free, but you must be registered for at least one week of programming at NSTA Engage: Spring21 to participate. The deadline to register is April 19. Teams will be assigned randomly and instructions on how to participate will be e-mailed to you the week of the event. Think you know it all? BYO knowledge (and drinks) and join your colleagues for this exciting event!
Preservice Day
Wednesday, May 5
On Wednesday, May 5, NSTA is dedicating an entire day of programming to preservice teachers. After an introduction by the NSTA Presidents, there are 15 different sessions to choose from, following the themes of Challenges in Teaching; Science, Equity, and Diversity; and Science Teacher Essentials. These sessions are specifically developed for future teachers of science.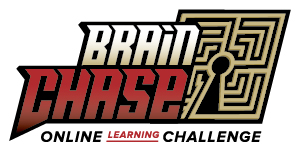 Thursday, May 6
7:30-8:30 PM EST
Tickets: $10
NSTA has partnered with Brain Chase to offer NSTA Engage: Spring21 attendees a fun, family-friendly event! In this virtual escape room, participants will go on a quest to solve a mystery—get to Mount Everest and recover the missing camera of famed mountaineer George Mallory. Grab a snack, you favorite beverage, and the rest of your family, and join us for this unique, can't-miss experience. Only one registration is needed per household. You must be registered for at least one week of programming at NSTA Engage: Spring21 to participate. Tickets cost $10. The expedition will take place on Thursday, May 6 from 7:30-8:30pm EDT. You must reserve your spot by April 26.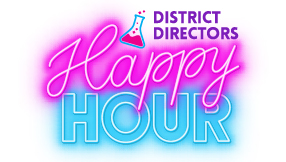 NSTA District Directors have been challenged to organize creative Happy Hour events every Saturday during NSTA Engage: Spring21. Please reach out to your District Director to confirm his/her participation in this virtual barhopping event where you will create a beverage from your region. These events will provide an opportunity for you to reconnect with colleagues and/or make new friends! If your district is not listed, don't hesitate to join in for a fun hour with another district.
NSTA Districts I and II Virtual Happy Hour
Saturday, April 17, 2021
7:30–8:00 PM
8:10–8:40 PM
NSTA Districts VII, X, XI, XII, and XIII
Saturday, April 17, 2021
7:30–8:00 PM
8:10–8:40 PM
NSTA Districts XV, XVI, and XVII
Saturday, April 24, 2021
7:30–8:00 PM
8:10–8:40 PM
NSTA District XVIII
Saturday, April 24, 2021
7:30–8:00 PM
8:10–8:40 PM
NSTA Districts III, IV, V, VI, VIII, and XIV
Saturday, May 1, 2021
7:30–8:00 PM
8:10–8:40 PM
NSTA Districts VII, X, XI, XII, and XIII
Saturday, May 1, 2021
7:30–8:00 PM
8:10–8:40 PM
NSTA Districts III, IV, V, VI, VIII, and XIV
Saturday, May 8, 2021
7:30–8:00 PM
8:10–8:40 PM
NSTA Districts XV, XVI, and XVII
Saturday, May 8, 2021
7:30–8:00 PM
8:10–8:40 PM

The NSTA Marketplace is your destination to connect with leading science education solution providers.
NSTA Engage: Spring21 will feature our Marketplace Partners, where companies and organizations will showcase the latest science education materials, tools, and products available.  
Also Available for Free
Marketplace Keynote Speakers
Integrating Diversity, Equity, Accessibility, and Inclusion (DEAI) in the STEM Classroom
Friday, April 16, 11:00–11:45 AM EDT
Sponsoring Company: Carolina Biological Supply Co.
STEM is not just about integrating science, technology, engineering, and math. Dr. Carol O'Donnell discusses how schools can support STEM students and teachers of diverse backgrounds through curricula, professional development, and leadership development that take an integrated approach to diversity, equity, accessibility, and inclusion in K–12 STEM. Participants will learn about several free Smithsonian resources to integrate inclusive design into K–12 STEM curricula, apply PD strategies for teaching English learners and girls in STEM, and diversify the STEM teaching workforce.
Carol O'Donnell
Executive Director of the Smithsonian Science Education Center
Planning for a Responsive Relaunch
Friday, April 16, 4:00–4:45 PM EDT
Sponsoring Company: Amplify
What have we learned during the past year about what we most value about teaching and learning? Where does science fit in a responsive relaunch? Join leaders from UC Berkeley's Lawrence Hall of Science as we reflect on these questions and begin to explore how to capitalize on a phenomenon-based approach to create a culture that values student voice and fosters curiosity and engagement.
Rebecca Abbott
Professional Learning Lead for The Learning Design Group, The Lawrence Hall of Science, University of California, Berkeley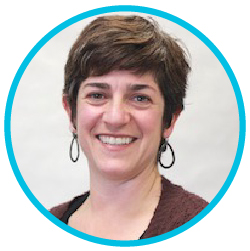 Creating Inclusive STEM Classrooms to Support All Students from Diverse Backgrounds
Friday, April 23, 11:00–11:45 AM EDT
Sponsoring Company: BrainPOP
STEM fields do not currently reflect the diversity in our country. Not every student will need to be a scientist or engineer but every student should be able to envision themselves in a STEM field. How do we create inclusive classrooms to support all students from diverse backgrounds?
Jacqueline R. Smalls
Chief Programs Officer, Code.org, Seattle, WA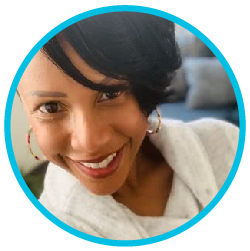 A New Awakening: Taking Care of the Social and Emotional Needs of Students and Teachers
Friday, April 23, 4:00–4:45 PM EDT
Sponsoring Company: STEMscopes by Accelerate Learning
This past year put a spotlight on the social and emotional needs of our teachers and students. Let's step back and look through a renewed lens at what really matters. While good teaching is the hallmark of student success in the classroom, this can only happen when teachers and students are in a good frame of mind and position to care for one another. We'll tackle this critical issue with relevant tools and suggestions. Learning from this past year can transform education forever.
Kenn Heydrick
National STEM Manager, STEMscopes, Houston, TX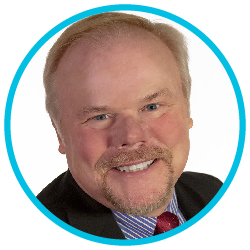 Computational Thinking: Riding the Next Wave of Student Engagement
Friday, April 30, 11:00–11:45 AM EDT
Sponsoring Company: PASCO Scientific
How do we capture the attention of our digitally tuned students today? The answer came from an experiment in 2013 called "an hour of code." Today, coding and computational thinking is the new wave that is capturing students' attention worldwide. New approaches in the U.K., Sweden, Norway, and even the U.S.'s NGSS all use this cleverly disguised critical-thinking skill to excite, engage, and educate the future generations. We will investigate this new instructional wave together.
JP Keener
STEM Specialist and Educational Consultant, PASCO Scientific, Roseville, CA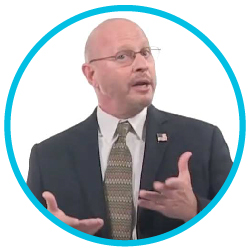 Science Denial, from Climate to Covid: How Educators Can Make a Difference
Friday, April 30 • 4:00-4:45 PM EDT
Sponsoring Company: Savvas Learning Co.
Public opinion in the U.S. continues to demonstrate a surprising unwillingness to embrace the scientific consensus on major issues affecting the country and the world. This problem relates to popular perceptions of science and scientists, placing science educators in the crosshairs of this conflict. We will suggest ways in which science educators can play a key role in regaining the cultural high ground in American society.
Ken Miller
Professor of Biology at Brown University, Providence, RI
Joe Levine
Science Writer and Producer, Boston, MA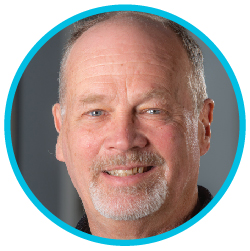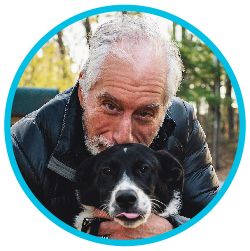 Enjoy a Sneak Peek from our Sponsors!